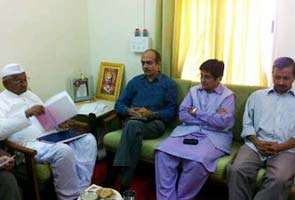 Mumbai:
Anti-corruption crusader Anna Hazare has to decide whether to launch his hunger strike as scheduled on December 27 in Mumbai. The government has extended this session of Parliament for three days so that MPs can clear the Lokpal Bill - a demand Anna has made. If the bill is not strong enough, he says he will fast.
His team says it's waiting to see the draft of the Lokpal Bill that the Prime Minister has cleared. Based on his core group's review, 74-year-old Anna will decide whether his fast is still needed.
If it is, his team is in trouble. Not just because Anna's health has been declared worrying by his doctors, but because the venue they have picked in Mumbai for their fast is prohibitively expensive - two lakhs a day. So they've appealed to the Chief Minister of Maharashtra, Prithviraj Chavan, to intervene.
(Read: Team Anna's letter to Maharashtra Chief Minister)
The Mumbai Metropolitan Region Development Authority (MMRDA) told Team Anna today that it cannot offer a discount on the 30,000 square metres plot that the activists want to rent from December 26 to January 10. In their letter to the Chief Minister, the activists urge, "If exemption in huge costs at MMRDA is not possible, it is our request that adequate arrangements be made at Azad Maidan to enable citizens to join the protest of AnnaJi from 27th Dec. We believe that 50,000 to 100,000 visitors will want to visit every day. "
"We cannot reduce the rates. We don't have any authority. Rules are rules,'' Anil Wankhede, MMRDA's Deputy Metropolitan Commissioner told NDTV this morning. "Either they take it, or leave."
Team Anna has said that if it does not get the discount it's looking for, it will appeal to citizens and supporters to make donations for the protest.