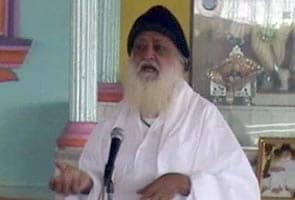 Mumbai:
Controversial self-styled godman, Aasharam Bapu, faces prosecution after the Serious Fraud Investigating Office (SFIO) of the Ministry of Corporate affairs has found him guilty of land-grab in Ratlam, Madhya Pradesh.
The godman is accused of grabbing over 200 acres of land, worth around Rs 700 crore, owned by Jayant Vitamins Limited. The land is located along the Delhi-Pune freight corridor in Madhya Pradesh.
"We were asked to investigate mismanagement in the company, after a shareholder lodged a complaint," a senior official from the ministry told NDTV. He added, "We have found him (Mr Bapu) and his son, Narayan Sai, guilty of land-grab and have recommended prosecution under sections of the IPC and Companies Act for land-grab and mismanagement."
In 2000, one of the directors of the company apparently gave the land to the spiritual leader to conduct a religious function. Since then, he hasn't vacated the premises.
Interestingly, though, Jayant Vitamins did not file the complaint against Mr Bapu. A shareholder of the company approached the ministry and complained about mismanagement of the company's resources, including funds and properties. The ministry then transferred the complaint to SFIO in 2010 for investigation. The SFIO report recommending the spiritual leader's prosecution was submitted last month. If the ministry endorses the recommendations made by its investigation wing, Mr Bapu faces possible arrest.
Once a public limited company, Jayant Vitamins was delisted from the Bombay Stock Exchange (BSE) in 2004, after it failed to pay its listing fee. The firm used to be a major supplier of glucose and vitamins to pharmaceutical companies.
Aasharam Bapu had stirred a controversy recently when he passed outrageous and regressive remarks against the medical student who was gang-raped in Delhi on December 16. He had said if Amanat (NOT her real name) had addressed the accused as brothers, or had chanted prayers, the incident could have been averted.