New Delhi:
The worsening water crisis in the Bundelkhand region has prompted the Central Water Resources Ministry and the Niti Aayog rework their strategy.
Uma Bharti, the Water Resource and River Rejuvenation Minister, told NDTV, "The focus of Centre's Bundelkhand strategy is going to be sharpened to deal with the water crisis and find a long term solution to the drought and poverty induced migration."
Ms Bharti said that to mitigate the crisis, the Niti Aayog has decided to revive the Bundelkhand package. But the package will be launched with a new spin - water revival and employment generation.
Ms Bharti held the first meeting with the lawmakers of 10 Bundelkhand districts from Uttar Pradesh and Madhya Pradesh to discuss the new strategy on Monday.
The Niti Aayog is likely to make a presentation to the minister next week. The basic agreement is that the Bundelkhand package will work to provide drinking water solutions. Once a strategy is worked out, the Centre will seek response from the state governments.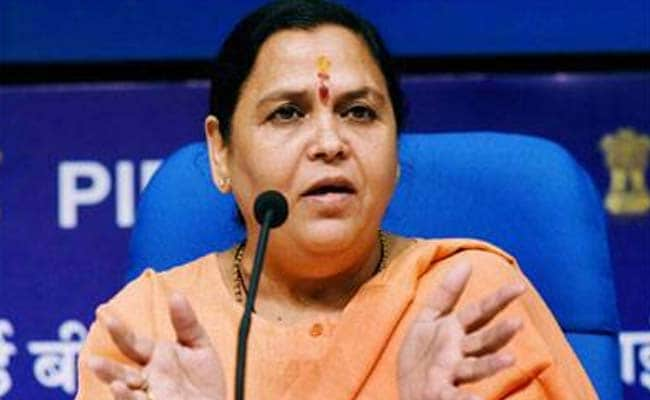 "The other focus will be employment generation. The area has a huge potential for horticulture which is not water intensive. If funds and innovation are pushed horticulture can thrive and offer income to locals and stem the spiral of migration," a senior ministry official said.
When asked why the thrust of the Bundelkhand package was changed, Uma Bharti said, "In the old package goats and bulls were distributed without any study or accountability. It never addressed the core of the crisis."
Speaking about a long term measure Ms Bharti said, "The solution is river linking. Not purely in terms of connecting rivers but creating a link between rivers which are in floods to the regions which are water starved."
The Centre is also working on a legislation to restrict the unregulated use of freshwater across the country. Uma Bharti said, "Water is a state issue so we will not do anything without consulting states or getting their nod. We are considering a legislation to fix the usage of fresh water. Surface, ground and rain water can't be used for everything," said Ms Bharti.
Get Breaking news, live coverage, and Latest News from India and around the world on NDTV.com. Catch all the Live TV action on NDTV 24x7 and NDTV India. Like us on Facebook or follow us on Twitter and Instagram for latest news and live news updates.