Highlights
PM Modi met 93-year-old Karunanidhi, recovering from illness
DMK says no political signal from meeting, but timing sparks speculation
DMK could be a more attractive ally for BJP if leaders walk in 2G case
Chennai:
Prime Minister Narendra Modi was received by top DMK leaders MK Stalin and MK Kanimozhi as he arrived today at the Chennai home of their father and party boss M Karunanidhi for what was described as a courtesy call. Mr Karunanidhi, 93, is recovering from a long illness and recently made his first public appearance in months at an exhibition.

PM Modi was in Chennai to attend several functions, including a local newspaper's celebration of 75 years. His visit to Mr Karunanidhi's Gopalapuram home was announced at the last minute. The Prime Minister was at Mr Karunanidhi's residence for about 20 minutes, talked to the DMK chief holding his hands and also met his wives Dayalu Ammal and Rajathi Ammal.

Ms Kanimozhi told a local TV channel that PM Modi invited her father to his home in Delhi for some rest.


DMK sources said there was no political signal in today's meeting. But the timing is interesting. Tomorrow, a special court in Delhi will fix a date for verdict in the 2G spectrum scam case - expected to be some time this month - and has asked all accused to be present. Among them are the DMK's A Raja and Ms Kanimozhi.
If the DMK leaders are acquitted in the case, the BJP could see the party as a more sound prospective ally ahead in Tamil Nadu ahead of the 2019 general elections than the ruling AIADMK, which won a big mandate in assembly elections last year, but is caught in a leadership crisis ever since the death of its powerful leader and former chief minister J Jayalalithaa last December.
The DMK and AIADMK face off in local elections expected to be held this year, the first real test of the ruling party's popularity without Ms Jayalalithaa leading it. As he seeks re-election in 2019, PM Modi will want to bet on a party that can win more parliament seats.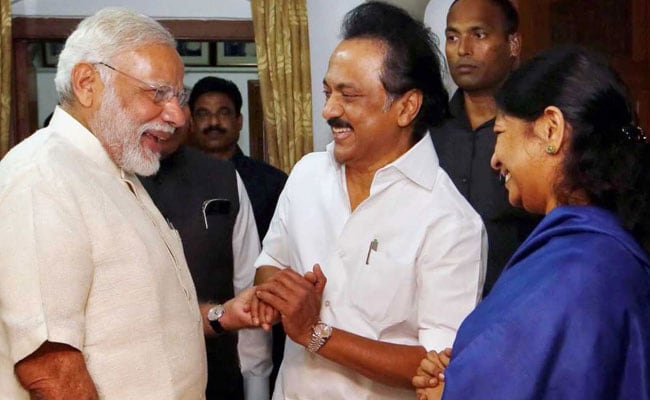 The DMK is a partner of the Congress in Tamil Nadu and a member of a group of 18 opposition parties that have taken on the BJP in Parliament and outside over several issues at the national level, including mega reforms demonetisation and new national tax GST or Goods and Services Tax. But the party has been an ally of the BJP before as part of the Atal Bihari Vajpayee government at the Centre.

For DMK's M K Stalin, who had returned from Dubai early this morning, a partnership with the BJP would mean that the national party will not need to explore an alliance with super star Rajinikanth, seen to be poised for a political launch. Another super star Kamal Haasan also looks set to launch his own political party, which could further split the anti-AIADMK vote, and impact the DMK.


At the newspaper event today, the Prime Minister also exchanged greetings with Rajinikanth, PMK leader Ramadoss and DMDK's Vaiko.
Chief Minister E Palaniswamy or EPS of the AIADMK greeted the PM when he landed in Chennai this morning and then flew with him on a chopper to and from the airport to hold talks. EPS told reporters that he has asked "for a 1,500 crore package from the Centre" for relief in Tamil Nadu, inundated after heavy rains.