New Delhi:
Waving flags and banners, thousands of people took to streets in Delhi on Sunday in a march from Rajghat to Jantar Mantar against what they called "anti-national" activities in Jawaharlal Nehru University or JNU.
Protesters in the 'March for Unity' demonstrated against students of JNU who were allegedly involved in raising "anti-national" slogans and organising an event to commemorate 2002 Parliament attack convict Afzal Guru who was hanged in 2013.
There were around 25,000 people at the march on Sunday, police sources said.
Members of the protest allege that those who raised slogans had received foreign funding to "Balkanise the nation".
"A handful of students were not responsible for what happened at JNU. There was foreign funding for the event," Major General Dhruv C Katoch (Retired), one of the leaders of the event, said.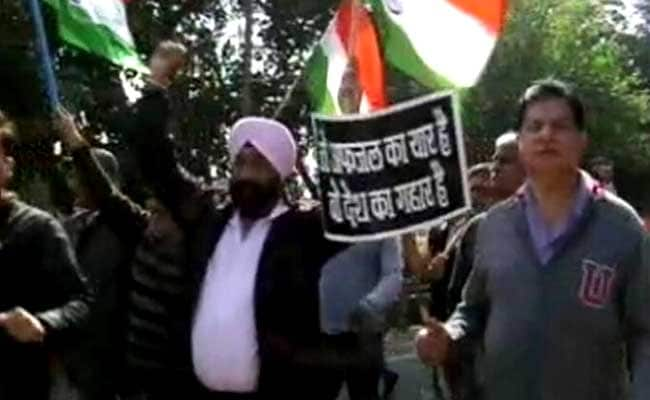 Speaking at a press conference on Saturday evening, Major General Katoch had said the rally has been organised by an "apolitical" group 'People for Nation'.
The Akhil Bharatiya Vidyarthi Parishad or ABVP, the student wing of RSS, has been actively promoting the event and has sent out invites to the media, which Major General Katoch played down claiming political parties "across the spectrum" have been invited to the event.
"We are completely for unfettered freedom of speech but there should not be debate on a few things. We will match against anti-national slogans raised during the event at the JNU campus. We simply want to initiate a counter-narrative through this," he said.
Air Marshall P K Roy (Retired) said "anti-national" slogans "demoralise" the soldiers guarding the country's frontiers. "A few unguided people resort to such activities. As elders, it is our responsibility to guide them," he said.