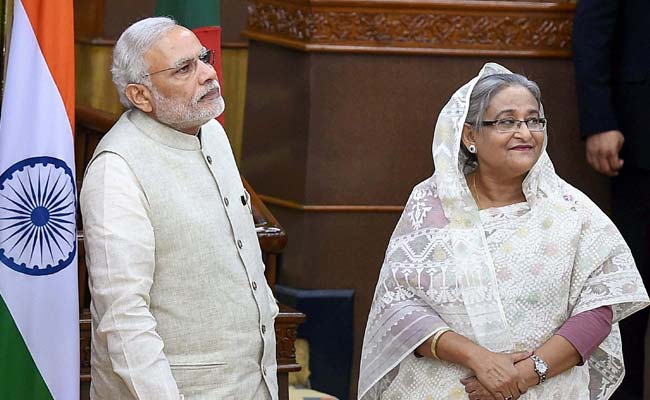 Dhaka:
Thousands living near the India-Bangladesh border celebrated today a historic agreement that will allow them to choose their nationality.
Poor villagers living in border enclaves waved Bangladeshi flags, held street parades and broke down in tears after Saturday's ratification of the deal covering parts of the border along India's eastern flank.
"I have never dreamt that I would live to see myself become a citizen of any country," said Moinul Haq, who lives in one of the Indian enclaves inside Bangladeshi territory.
"We have finally tasted freedom after 68 years," he said by phone, bursting into tears as he joined a "victory procession" of more than 1,000 members of his Boshpechai-Bhitokuti enclave.
Similar celebrations were held in other enclaves, said Golam Mostofa, general secretary of an association of enclaves.
"All of us are now Bangladeshi citizens. Our pains and decades of frustrations are over. We're now liberated and can now claim citizenship rights. The enclaves will now have schools, clinics and government offices," Mr Mostofa said.
Prime Minister Narendra Modi signed the pact with his Bangladeshi counterpart Sheikh Hasina in a ceremony on Saturday, the highlight of his two-day visit to the neighbouring country.
An agreement on the ownership of the 162 enclaves - essentially islands of land located in each other's country - had proved elusive for decades. They resulted from complex ownership arrangements made centuries ago by local princes.
Around 50,000 people are thought to live in these enclaves and lack many basic services such as schools, clinics and utilities.
Under the agreement, each country will assume sovereignty over all enclaves in its territory.
Residents will be allowed either to stay put or to move across the border. The enclaves will effectively cease to exist.
Bangladesh actually endorsed the deal in 1974 but it was only last month that the Indian Parliament gave its approval, paving the way for Saturday's joint ratification ceremony.
PM Modi and Sheikh Hasina signed a series of other agreements on Saturday, including building much-needed power plants in Bangladesh, while India announced a $2 billion line of credit to Bangladesh to deepen relations.
Mr Modi is scheduled to meet embattled opposition leader Khaleda Zia today before wrapping up his visit, his first to Bangladesh since being elected in May last year.
Officials have played down the idea of the Prime Minister mediating in the long dispute between Sheikh Hasina and Khaleda Zia, although he might urge the latter to ensure an end to anti-government attacks.
Scores of people have been killed in firebomb attacks on vehicles since Khaleda Zia called a transport blockade at the start of the year in a bid to topple Sheikh Hasina.
The government refrained from criticising Hasina Hasina's re-election in January 2014 in a contest that was boycotted by the opposition and dismissed as "not credible" by Western nations.