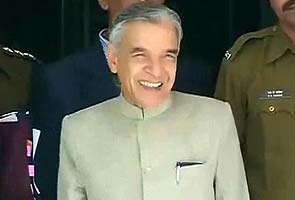 New Delhi:
Pawan Kumar Bansal's first Railway Budget, presented today, has been slammed by both the main opposition party BJP and Mulayam Singh Yadav, who provides external support to the government, as a "budget for the Congress."
Emerging from Parliament after the speech, BJP leader Gopinath Mude said, "This is not a Rail Budget, this is a Rae Bareli budget." (
Read: Other political reactions
)
Rae Bareli, in Uttar Pradesh, is Congress president Sonia Gandhi's Lok Sabha constituency. The BJP says Mr Bansal's budget focuses on states like UP and ignores those ruled by the National Democratic Alliance or NDA that the BJP leads.
"This budget in favour of limited states. There are no schemes for Maharashtra, Gujarat, Bihar and Chhattisgarh in this budget," Mr Munde said. Mr Munde's party colleague Yashwant Sinha said,"It's a populist election budget which has addressed the Congress' concerns but not larger, regional issues and aspirations."
The Railway Minister has defended his budget saying, "If the word Rae Bareli is an anathema to them (Opposition MPs) then there is nothing I can do about it."
But even allies like Mulayam Singh Yadav, whose Samajwadi Party rules Uttar Pradesh, disagree. Mr Yadav said, "In six -seven districts from where we are, there has not been a single line added."
He accused the Rail Minister of favouring only his own party. "He is a minister for all - they cannot take sides... This is a budget for the Congress party, it is partisan. There has never been such opposition to any rail budget," Mr Yadav said.
The Left has also been critical of the budget. "I find this budget is going to be a burden on the people. This budget does not give any hope to the future of the railways", said CPI's D Raja, adding , "...there are ambitious announcements keeping in view the forthcoming elections to hoodwink common people."