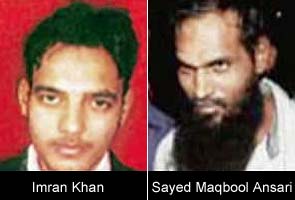 Pune, Hyderabad:
No terror outfit has as yet claimed responsibility for the powerful twin blasts in Hyderabad that killed 16 people and injured over a 100 yesterday, but investigators could reportedly now be looking at a Pune link to the attack.
A team of the Maharashtra Anti-Terror Squad or ATS is among the agencies now in Hyderabad investigating yesterday's blasts in the city's crowded Dilsukhnagar area.
Two men, allegedly Indian Mujahideen or IM terrorists, arrested last year by the Delhi Police for the serial blasts in the heart of Pune in August 2012, had reportedly recced Dilsukhnagar on a motorcycle in July 2012 as a location for a possible terror strike, allegedly on the instructions of Riyaz Bhatkal, one of founders of the IM, according to the Delhi Police.
The Delhi Police said that the arrest and interrogation of one of them, Imran Khan, in August last year, led to the arrest of the other man, Sayed Maqbool Ansari, the alleged bomb-maker of the terror module, from Hyderabad a few months later. Both Imran and Maqbool are residents of Nanded district in Maharashtra.
Based on information gathered from these men, the Maharashtra ATS arrested several alleged members of the Indian Mujahideen in their state and the National Investigation Agency carried out searches in Nanded, Bangalore and Hyderabad, sources said.
The BJP has asked the government to explain if Hyderabad was compromised because danger signs were ignored or missed, with innocent people paying with their lives for allegedly major lapses. Leader of the Opposition in the Lok Sabha Sushma Swaraj pointed out in Parliament this morning, the Delhi Police's detailed information on the Dilsukhnagar recce more than six months ago.
It has also pointed to the fact that in an alert just 72 hours ago, intelligence agencies warned of a possible terror strike in cities including Hyderabad and Bangalore. Home Minister Sushil Kumar Shinde, who visited Hyderabad this morning and also made a statement in Parliament on the Hyderabad blast, has repeatedly said since yesterday that there was intelligence about attacks, but that it was general.