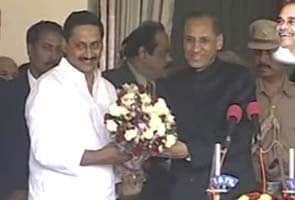 Hyderabad:
After being sworn in, Kiran Kumar Reddy's first stop as Andhra Pradesh Chief Minister was NIMS Hospital here to meet an arogyasree patient. Arogyasree is a pet scheme of former Chief Minister YS Rajashekhara Reddy (YSR), and Reddy seemed to make a statement that he would follow in YSR's footsteps, continuing with his policies and agenda.
Kiran Kumar Reddy's move can be seen as one intended to neutralise the Jagan factor. For Andhra's new cricketer-Chief Minister has a tough innings ahead of him and Jagan is one of the googlies that he shall face. The other is the Telangana issue. In such, it is imperative for him to take every one along for maximum support.
As Reddy was being sworn in around noon on Thursday, speculation had already begun on who would find place in his cabinet. The state Congress is more divided than ever on regional lines and between pro- and-anti-Jagan factions and Reddy has the unenviable task of pleasing all.
Geeta Reddy, senior Congress leader reposed faith in the new Chief Minister. "I am sure he will be able to shoulder the burden. We wish him all the best and we will cooperate with him.''
Another senior leader, D. Nagender, was less expansive. "It is up to the high command. Whatever madam decides, we will abide by that,'' he said.
The winter session of the Assembly is scheduled to start on Monday and Chief Minister Reddy does not have too much time to pick his ministers.
As an interesting aside, the first file that NT Rama Rao had signed as CM in 1994 was on prohibition and the first file that YSR signed in 2004 was on free electricity.