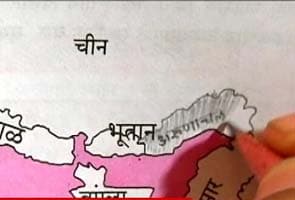 Mumbai:
While Arunachal Pradesh continues to be a key area of dispute between India and China, the state is not even a part of the country, according to the Maharashtra government's education department.
In geography textbooks endorsed by the state, the north-eastern state is not only missing, the area is also shown as part of Chinese territory. This shocking error has surfaced in geography books meant for Class 10 students affiliated to the Maharashtra state board. What's more, these books are being used by nearly 17 lakh students across the state.
Arunachal Pradesh is one of the areas that China claims as its own; it says the state is part of Tibet.
The Maharashtra state board is now on the back foot after this major embarrassment has come to light. No answers have been offered as to how wrong maps made its way to the textbook and those responsible for vetting this controversial content.
Meanwhile, the state press, Balbharti, which prints the textbooks has taken responsibility for this blunder. Though it has refused to come on record, it says these textbooks will continue to be on circulation - the mistake of the missing Arunachal Pradesh will only be rectified in the next edition, next year!