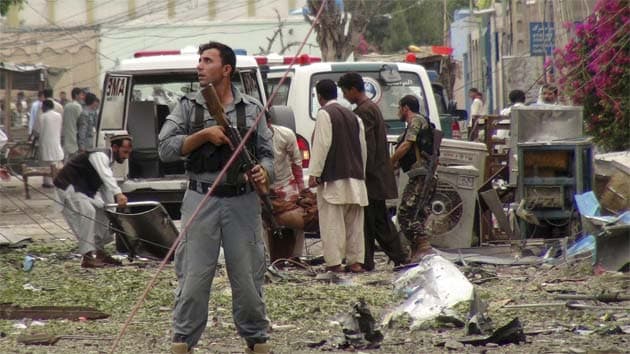 New Delhi:
With militants again targeting its mission in Jalalabad, India today said "terror machine" that operates from "beyond the borders" was the main threat to Afghanistan's security while the war-torn country assured that no stone will be left unturned to ensure safety of Indian diplomats there.
At least 10 people were killed in the deadly attack targeting the Indian Consulate in Jalalabad city, bordering Pakistan, in the backdrop of reports that the ISI-backed Haqqani network among others were again plotting to attack Indian interests in Afghanistan.
External Affairs Minister Salman Khurshid called up his Afghan counterpart Zalmay Rassoul and thanked him for the efforts of Afghan National Police in ensuring the safety of the Consulate General of India in Jalalabad, official sources said.
They said Rassoul informed Mr Khurshid that "Afghanistan will leave no stone unturned to ensure the safety of Indian diplomatic personnel and the Afghan Government is determined to counter the efforts of those inimical to India's friendship with Afghanistan."
Earlier, MEA spokesperson Syed Akbaruddin said, "This attack has once again highlighted that the main threat to Afghanistan's security and stability stems from terrorism and the terror machine that continues to operate from beyond its borders."
He said the attack which has led to the injuries and deaths of several valiant Afghan police personnel as well as deaths of several innocent Afghan civilians including children, must be condemned in the strongest possible terms.
However, he asserted that India would not be deterred by this attack and will continue to assist Afghanistan in its reconstruction and development effort.
"This was clearly an attack not just against India but an attack against the efforts to help the Afghan people overcome the tragic hardships they have endured due to several decades of war," he said.
This is the second strike on the Consulate which was earlier attacked in 2007. Indian Embassy in Kabul too came under a deadly attack in 2008 and was again targeted in 2009.