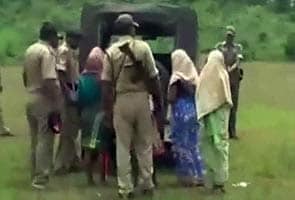 Jharkhand:
At a missionary hostel in Jharkhand's Lawada village, 96 young girls are afraid to sleep at night.
Three days after a group of men barged into the hostel, dragged away four girls and gang-raped them, there is hardly any security to set the minds of the other girls at rest.
Eight of the attackers have been arrested, but that has done nothing to comfort the girls, aged between 5 and 15, still staying at the hostel.
"I am very scared. Those men threatened that they would come again," said 10-year-old Lakshmi Malto, wishing she could leave like many of her friends.
Since the attack on Sunday, at least 30 children have left the hostel, which is little more than mud barracks in a deeply forested area 20 kilometres from the district headquarters of Pakur.
Most of the girls were sleeping when the attackers came at 11 pm, masked and armed with knives and weapons.
Some say there were 9 men, some say 20. The attackers locked up the principal and other students before dragging away the 4 girls and raping them 500 metres away from the hostel.
After two hours, the men took the girls back to the hostel.
"I want the culprits to hang," said the father of one of the girls.
Not a single policeman has been posted there to prevent a repeat attack. "There is no policeman, no security to speak of. The assailants could easily come again," said Samuel Malto, a teacher.
On Wednesday afternoon, a few policemen suddenly arrived with an anti-mine vehicle, but apparently not for the children.
"We have come here because there is a lot of VIP movement," Sanat Kumar Soren, the DSP, Pakur district, told NDTV.
The apathy of the administration is something the girls are learning to live with, along with the fear.