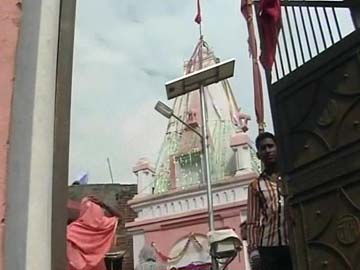 Moradabad:
There is tight security in Kanth town of Moradabad in Uttar Pradesh after a Vishwa Hindu Parishad leader said she would perform prayers today at a temple which has been at the centre of a dispute over a loudspeaker.
Sadhvi Prachi of the VHP has said she is determined to reach the temple and perform a
jal abhishek
or a ritual with water.The VHP is an offshoot of the RSS, which is also the ideological mentor of the BJP.
The Akhilesh Yadav government in UP had recently removed the loudspeaker from the temple, leading to clashes between villagers led by BJP workers and the police. Today is Alvida Namaz or the last Friday prayers in the month of Ramazan and a day of much religious significance for Muslims. The Hindu festival of Shivratri is also being observed today and the state administration is determined to ensure peace in the area.
It says it has sealed the borders of Moradabad district to ensure that VHP workers cannot reach Kanth. CCTV cameras have been installed and policemen with machine guns are patrolling the area.
Earlier this month, an attempt by BJP leaders to visit Kanth and hold a big gathering called a "mahapanchayat" was thwarted. Among those detained was BJP legislator Sangeet Som, who was accused in last year's riots in Muzaffarnagar, about 150 km away from Moradabad.
Sadhvi Prachi too is one of the people accused of violating prohibitory orders and inciting communal violence by provocative speeches in the Muzaffarnagar riots, which left 60 people dead and many homeless.
The VHP has engaged in several stand-offs with the Samajwadi Party government recently over its controversial plans to offer prayers or conduct yatras in communally sensitive areas of Uttar Pradesh in defiance of law and order.
The BJP now plans a protest in Moradabad tomorrow against what it calls the ill-treatment of many of its workers who were arrested earlier this month and are still in jail.