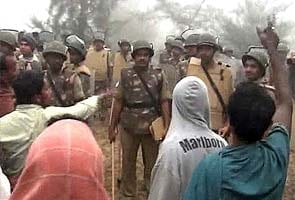 Bhubaneswar:
There was a fresh standoff between villagers and police in Odisha's Posco site today after the cops allegedly tried to enter the Gobindpur village.
A scuffle took place today when a group of local school children, who were staging a rally demanding the removal of police force from the area, came face to face with the police force which was on a flag-march. Some of the school children have been reportedly injured.
The leader of the Posco Pratirodh Sangram Samiti Abhay Sahu is on an indefinite hunger strike since this morning demanding withdrawal of police force from the village.
Today is the third day of the land acquisition operation launched by the Jagatsinghpur district administration with the help of 15 platoons of police. After being halted for more than a year, land acquisition for the showpiece Rs. 52,000-crore steel plant in Odisha resumed on February 4.
Yesterday anti-Posco protesters had indulged in stone throwing, damaging at least five vehicles of the police and administration. Sources said, police sealed all the entry points to Gobindapur.
They also sealed the Gobindapur-Dhinkia road. Protesters from nearby areas like Ersama, Kujang and Jagatsinghpur were gathering in order to chalk out their strategy.
(With inputs from PTI)