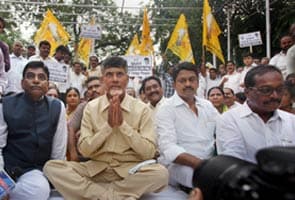 New Delhi:
Politician Chandrababu Naidu today said that since the Centre doesn't seem to understand the extent of the crisis in Andhra Pradesh, he will use Italian to explain. Mr Naidu, who heads the regional Telugu Desam Party, said that Coastal Andhra and Rayalaseema are
"immobilismo"
. For those not fluent in Italian, Mr Naidu added, "Things are at a standstill. Total standstill."
His jibe is aimed at Sonia Gandhi, the president of the Congress party, which anchors the ruling coalition at the Centre and decided last week that the process of dividing Andhra Pradesh to create a new state of Telangana must begin immediately. (
Fasting and aiming at Sonia: Jagan went first, Chandrababu followed
)
That move has registered high on the Richter scale, triggering huge aftershocks in the 13 districts of Coastal Andhra Pradesh and Rayalaseema which are the two other regions of Andhra Pradesh, and are collectively referred to as Seemandhra. (
Read
)
Mr Naidu began an indefinite fast in Delhi today to support the demand for a "United Andhra." However, he refused to answer a question on whether he thinks Telangana deserves statehood.
His political opponents accuse him of doublespeak, because in 2008, he wrote to the Centre supporting the movement for statehood for Telangana. In his defense, his party says he is fighting to protect Seemandhra's interests, and to oppose what they describe as the Centre's unilateral decision to divide Andhra Pradesh.
Mr Naidu's decision to fast in Delhi, thousands of miles from the front line of aggressive protests in Seemandhra, is being seen as an attempt to gain credibility and dispel the impression that he is following the lead of his political rival, Jagan Mohan Reddy, who began a hunger strike in Hyderabad on Saturday.
High on the list of concerns for leaders from these areas is grappling with a future devoid of the booming economy of IT hub Hyderabad, which will be a shared capital for 10 years, but will then belong to Telangana state.