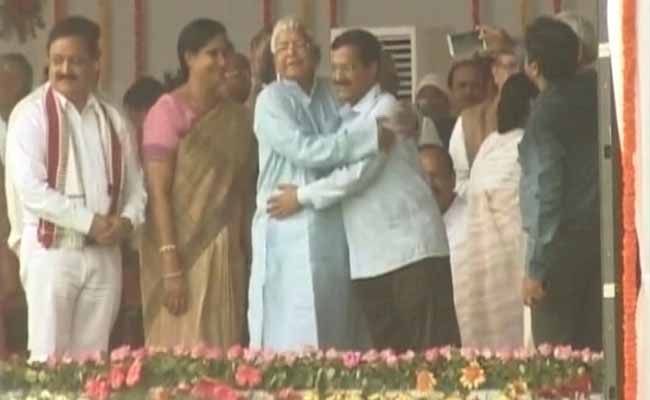 Amidst the claim by Delhi Chief Minister Arvind Kejriwal that Lalu Prasad had "pulled and hugged him" at the swearing-in ceremony of Nitish Kumar, the Rashtriya Janata Dal chief's son and Bihar deputy chief minister Tejaswi Yadav today said hugging a guest was part of '
sanskar
' (tradition).
"Its part of our
sanskar
to hug a guest who has come in a pleasant event," Tejaswi Yadav told reporters in Patna.
"Let anybody say anything... It is part of our
sanskar
to embrace a guest who has come to participate in a celebration. There is nothing wrong in it," Mr Yadav added.
Photographs of Delhi Chief Minister and Lalu Prasad hugging each other went viral on Friday and an Arvind Kejriwal tweet from two years ago was dug up to remind the former anti-corruption activist of his stand on Lalu Yadav when the latter was convicted in a corruption case.
Laloo made crores in fodder scam. But no order for recovery of that money. Just 25 lakh fine and few years in jail. A sweet deal

Arvind Kejriwal (@ArvindKejriwal) October 3, 2013
Clarifying his stand, Mr Kejriwal on Monday said, "We are against his record of corruption and we'll always oppose it." He pointed out that he was not in a political alliance with Mr Yadav, who is a partner in the ruling coalition that swept Bihar in the assembly elections this month.
He was in Patna, Mr Kejriwal emphasised, to cheer Chief Minister Nitish Kumar who led the anti-BJP Grand Alliance to victory. "Nitish is good person. People have told us that Nitish has done good work. We worked against the BJP there and supported him," Mr Kejriwal explained.
Friday's hug earned him criticism not only on social media but also from political rivals, including former AAP colleague Yogendra Yadav who said, "Political capital of the movement sold to symbols of political corruption. Ashamed!"