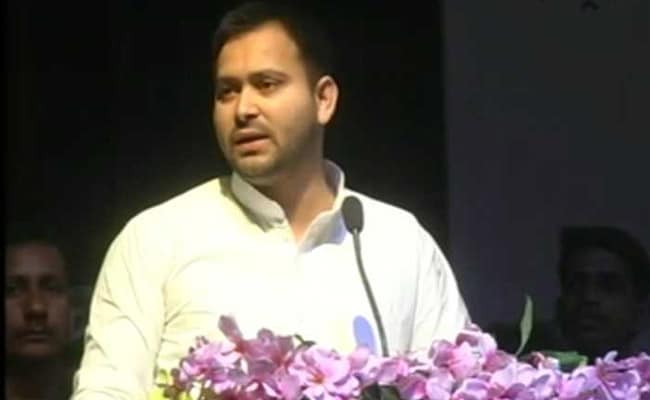 Highlights
Tejashwi Yadav dares Upendra Kushwaha to quit the NDA
Mr Kushwaha reiterated that the NDA is united
"Either choose Gandhi-Ambedkar or Godse-Golwalker": Tejashwi Yadav
Patna:
After days of dropping hints, Bihar's opposition leader Tejashwi Yadav issued an open invitation to Union Minister Upendra Kushwaha to quit the NDA and join hands with the opposition. The overture, however, was swiftly rejected by the junior minister of Human Resource Development, who said the RJD was trying to create as issue, since they don't have anything else to talk about.
Mr Kushwaha's party wants him as the NDA's chief ministerial candidate in the next elections, pointing out that after the Yadav vote, Kushwahas comprise 10 per cent of Bihar's electorate. Some of the issues Mr Kushwaha is supporting, including representation of all castes in judiciary, coincides with those of the opposition's. The minister has also skipped last week's NDA dinner and a couple of subsequent Iftaar parties last week - an absence that was seen as a signal of his disenchantment.
But after an Iftaar party he hosted on Sunday evening -- attended by state BJP chief Nityanand Rai -- Mr Kushwaha reiterated that the NDA is united and there's no question of him going anywhere. "RJD's credibility in the society in the opposition is over. That's why to find some plank to stay relevant, they are saying these things. For me, their statements have no meaning. For the good of the nation, Narendra Modi needs to stay the Prime Minister of India," he said.
Earlier on Sunday, at a party meeting, Tejashwi Yadav had said the NDA is giving "step-motherly treatment" to Mr Kushwaha.
"The BJP, along with Nitish Kumar, tried to spit your party. You come from a larger OBC caste, but despite that no one was made cabinet minister, while from one caste, there are more than a dozen cabinet ministers," the 28-year-old, seen as the political heir of jailed leader Lalu Yadav said.
Ahead of next year's general elections, a rift has surfaced in the Bihar NDA over who would be projected as the party's face. The JD(U) is batting for Mr Kumar, pitching him against the BJP choice of PM Modi. On Thursday, a meet of the BJP, Nitish Kumar's JD(U), Ram Vilas Paswan's LJP and Mr Kushwaha's RLSP, meant as a show of NDA unity, ended in a display of exactly the opposite.
The opposition leaders have been quick to push their advantage.
Last week, former chief minister Jitan Ram Manjhi, who quit Nitish Kumar's party and formed his own, asked Mr Kushwaha to join the opposition ranks. Asked whether the RJD would accept Kushwaha's RLSP into the grand alliance, Tejashwi Yadav said, "It is for him to take a decision. If he wishes to come with us, we will think over the matter," reported news agency Press Trust of India.
On Sunday, at a party conference in Patna, Tejashwi Yadav said, "The choice is yours. Either choose Gandhi-Ambedkar or Godse-Golwalker".
The BJP, he added, will "finish this constitution, which will then automatically end the reservations for backwards and Dalits". Reservation is one of the key issues Mr Kushwaha is fighting for -- his latest campaign demands representation of all castes in judiciary, which also coincides with the opposition's.