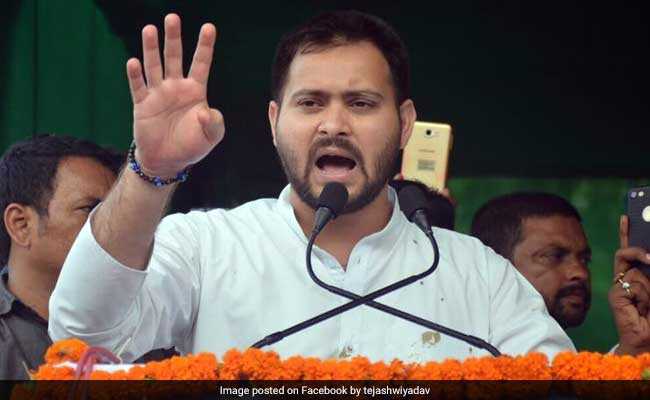 Patna:
RJD leader Tejashwi Yadav charged that the prohibition clamped by the Nitish Kumar government in Bihar was a "farce" and that the JD(U) depends on earnings through illicit liquor for its finances, inviting a sharp reaction from the ruling party.
Mr Yadav, the son of RJD supremo Lalu Prasad and Leader of Opposition in the assembly, claimed that JD(U) members are involved in illicit liquor business in Bihar on a large scale.
"The prohibition is a farce," he said. "The JD(U) is heavily dependent for its finances on earnings through illicit liquor."
"As JD(U)'s national president, Chief Minister Nitish Kumar owes an answer to the people of the state...has his government acted against them for flouting prohibition, which he loves to flaunt as his great achievement," Mr Yadav told a press conference on Tuesday.
He said there had been allegations that many officers have got transferred for laying hands on a JD(U) leader involved in illicit liquor business.
Mr Yadav's comments followed the death of four persons in Rohtas district after drinking spurious liquor last week, over a year and a half after the state was formally declared dry.
The JD(U) hit back with its chief spokesperson Sanjay Singh saying, "Tejashwi spoke a lot but he should have also spoken about the close ties his party maintains with the sand mafia."
"He also owes an explanation as to how his family has come to own so many plots of land," Mr Singh said in a statement.
Mr Yadav, also a former deputy chief minister, said the party and JD(U) were coalition partners in the erstwhile Grand Alliance government when Mr Kumar was planning to introduce prohibition.
"We (RJD) had then supported the move in the interests of the society though it was resulting in a loss of revenue of Rs 5,000 crore. Now we see that illicit liquor has become a thriving business."
Pillorying Nitish Kumar, the RJD leader said Mr Kumar has found a "new pet social reform measure" -- dowry-less marriage and recently welcomed a teacher from Bhojpur district at his residence who claimed to have said no to dowry.
"But in the photographs we see a JD(U) leader sharing space who happens to be the main accused in a 2012 hooch case ...the way he got an entry into the high-security official residence of the CM raises many questions about the chief minister's sense of judgement with regard to the people he chooses to interact with," Tejashwi
Yadav said.
The JD(U) reacted swiftly by terminating the membership of the leader, whose presence was flagged by Mr Yadav.
The party's state unit president Bashishtha Narayan Singh expelled Rakesh Singh from the primary membership of JD(U) who was allegedly named in a hooch case of 2012.
On Mr Yadav's claim that the NDA government in Bihar will collapse within six months, Singh hit out saying "He (Yadav) does not know his own future but he has started making predictions.
"It is a shame that a person who is being grilled day in and day out in connection with corruption cases, is trying to take a moral high ground," he said.
Speaking at a function, the chief minister, who is also the JD(U) national president, clarified that he had received at his residence a teacher from Bhojpur district who had recently refused to accept dowry for his son's marriage.
He was "unaware" that the person accompanying the old man was associated with his own party.
"Neither I nor our state president had an idea about this man. But once questions were raised we took no time in dissociating ourselves with him," Mr Kumar said.