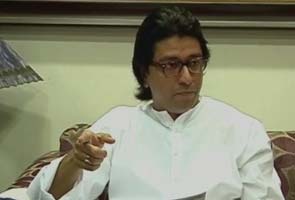 Palghar, Thane:
A 19-year-old boy has been detained by the police in Palghar near Mumbai for allegedly writing an "abusive" Facebook post against Maharashtra Navnirman Sena (MNS) chief Raj Thackeray. The police has not charged the teen yet; he has now been taken to the Cyber Crime cell in Thane.
"We are questioning him as we do not want to repeat the same mistakes committed a few days ago," an officer at Palghar police station told PTI, speaking on condition of anonymity.
The detained boy's brother says even though the account belongs to the 19-year-old, he still could not have done this.
The police is being careful after running into trouble over the arrest of two women last week, also in Palghar, for objecting to the shutdown of Mumbai on the day of Shiv Sena chief Bal Thackeray's cremation. Two Palghar policemen have been suspended after an inquiry into those arrests after nationwide outrage. But the charges against the two young women are yet to be dropped.
The boy was detained there for questioning on a complaint filed by Raj Thackeray's party. Kundan Sankhe, the president of Thane rural unit of the MNS, claimed the boy had made "vulgar" comments about Raj Thackeray. He said, "Our Thane rural district MNS student wing president Bhavish complained to police and asked them to investigate the matter."
A mob of MNS supporters reportedly surrounded the boy's home today and forced him to the police station.
There were reports that the teenager was beaten up by the MNS workers before being handed over to the police, but his mother says they did not beat him in front of her.
"They did not beat him in front of me. I do not know what they did later... They told us not to worry if he has not done anything wrong... I am sure my boy has not done this. He is a poor boy. He would not have such guts," she said.
Raj Thackeray is Bal Thackeray's nephew; he split from the Shiv Sena in 2006 and formed his own party, the MNS.
The Shiv Sena had called for a shutdown in Palghar today in support of the policemen suspended for arresting the two girls. Because of the bandh, schools, colleges and markets remained closed. Bus services were limited. The courts were working, but not many people turned up there.
There was heavy police presence all around. At least 500 police officers and the Rapid Action Force were posted to maintain peace. "People have joined the bandh on their own. The entire taluka is shut. Business establishments are closed," said Shiv Sena leader Prabhakar Raul.
(
With inputs from PTI
)