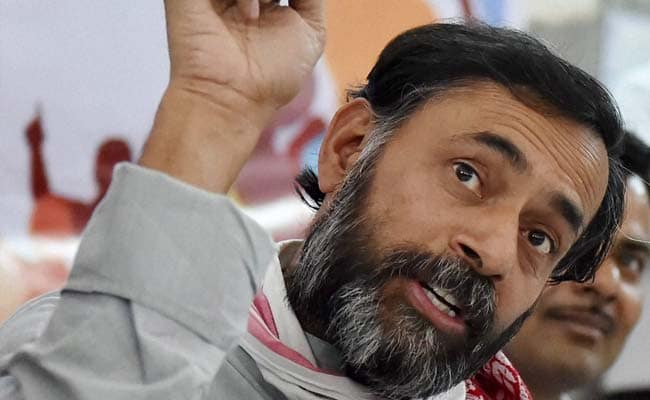 Patna:
Former Aam Aadmi Party leader Yogendra Yadav today said their newly-formed social movement 'Swaraj Abhiyan' would intervene in upcoming Bihar Assembly elections and might extend support to political parties.
"Bihar polls are coming and there is a lack of political options in the state. Our duty in this situation is to intervene positively, knock and interfere. We can even extend support to some political parties.
We'll take a decision over these at our national working committee meeting in New Delhi on June 2," MrYadav told reporters in Patna.
Mr Yadav said that intervention in the Bihar polls could be in various ways like a manifesto prepared by the people, making the people conscious about candidates, warning against tainted candidates or maintaining a vigil against use of money and muscle power during elections.
He was speaking along with another former AAP senior leader Prashant Bhushan at the inaugural function of 'Swaraj Samvad' as part of 'Swaraj Abhiyan' in the state.
"There is much anxiety, energy, hope, worry regarding Bihar politics, which has become devoid of options. On one side there are flag bearers of social justice, who have destroyed several aspects of Bihar in the last 25 years, while on the other hand there are powers who bear the saffron flag and want to destroy India in the past and future," Mr Yadav said.
The psephologist-turned-politician said the state wanted to know what options were there, and Swaraj Abhiyan would try to provide a new choice in politics and tell the people that "the construction of such a choice" was its religion.