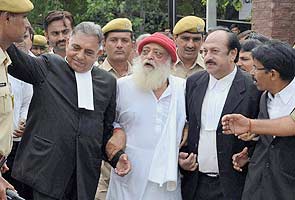 New Delhi:
Spiritual leader Asaram Bapu, currently in jail in Gujarat, has lost a case to stop the media from reporting on his alleged sexual assault of a school girl.
Asaram Bapu's lawyer argued in the Supreme Court today to stop the media from carrying what he described as speculative reports about the 75-year-old preacher, his family, and his many ashrams or retreats.
He also claimed that Hindi news channels are sensationalising the case to boost their ratings
The judges ruled against Asaram Bapu, but warned the media not to run stories that could influence the case against the suspect.
A 16-year-old says she was sexually assaulted by Asaram during an hour she spent alone with him at his ashram in Jodhpur in Rajasthan. He has denied the charges. Since that case was filed, two sisters who stayed at his ashrams in Gujarat have accused Asaram and his son, Narayan Sai, of rape.
Asaram Bapu was brought from prison in Jodhpur to a jail in Gujarat recently. His son is absconding.