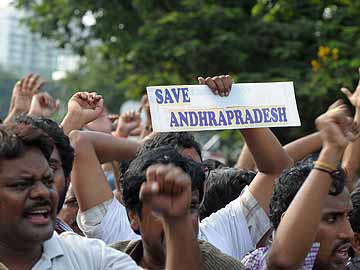 New Delhi:
The Supreme Court today refused to interfere in the Centre's plans to bring in a bill creating Telangana in the ongoing session of Parliament, as it dismissed nine petitions filed by Seemandhra leaders seeking a stay on the proposal.
"We do not think this is the appropriate stage for us to interfere. There is no change in circumstances between November 18 when we dismissed petitions on the same issue, and now. They can file appropriate petitions at the appropriate time,'' the Top Court said in its order.
The Supreme Court's refusal to intervene in the matter is certain to be viewed as a setback to the leaders opposed to the bifurcation of Andhra Pradesh. The confrontation between the pro and anti-Telangana leaders found an echo in Parliament today, as agitated lawmakers from the two sides forced the two Houses to be adjourned for the third day running.
The UPA government, however, is determined to push the bill through in Parliament in the remaining part of the concluding session, which draws to a close on February 20. The Congress' floor managers face an uphill task, as there are only working days left before the 15th Lok Sabha signs off.
In an attempt to buy peace with the Seemandhra leaders, the government had yesterday agreed to revisit the Telangana bill at a specially-convened meeting of the Group of Ministers (GoM) headed by Home Minister Sushil Kumar Shinde. A proposal to designate Hyderabad as a Union Territory till the time it was a joint capital was, however, turned down. The GoM agreed to recommend a financial package for the Coastal and Rayalseema regions, which together form Seemandhra.
The draft Telangana Bill will be taken up by the Union Cabinet in the evening today. It will be sent to the President for his assent before being introduced in Parliament.