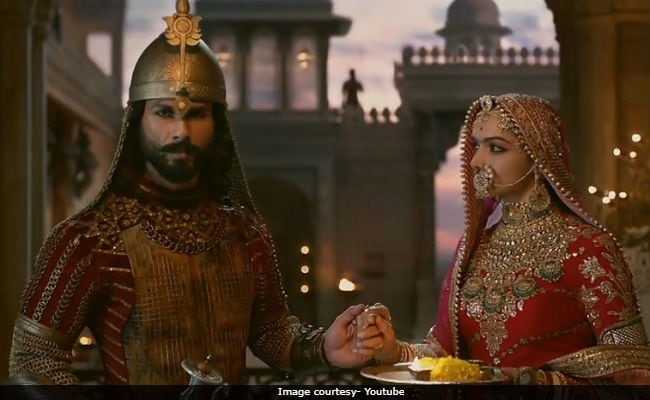 Highlights
Madhya Pradesh, Rajasthan and fringe group Karni Sena had challenged film
They say film distorts history, could provoke violence
Supreme Court says film cleared by censor board, can't be stopped
New Delhi:
The Supreme Court today rejected the final attempt by Rajasthan and Madhya Pradesh to ban the film "
Padmaavat
", which is set to be released on Thursday amid protests by Rajput groups. "It's an order, better abide by it. You (states) can advise people not to watch the movie," the judges said.
The two states had urged the top court to retract its earlier order stopping states from banning the mega-budget Sanjay Leela Bhansali film. "We passed an order and our orders are required to be complied by all," stressed Chief Justice of India Dipak Misra.
"People can't come and say law and order problems, ban the movie. Let us not come to a state where the exhibition of a movie, despite certified by the censor board, is crippled," he said.
The Karni Sena was the third petitioner to call for a ban on the film. It argued in court that "
Padmaavat
" distorts history and "people had been affected emotionally" by the way it depicts legendary Rajput Queen Padmini. Protesters led by the Karni Sena have blocked roads, burned buses and toll booths and even vandalized theatres over the past few months.
The court's response was curt.
"You create trouble and by virtue of it come to court," said Justice DY Chandrachud.
Chief Justice Misra added that experts watched the film before the censor board certified it and the movie carried a disclaimer.
With today's order, states have exhausted their legal options. "We have no choice but to comply and we will," said Rajasthan Home Minister Gulab Chand Kataria.
Rajasthan, Madhya Pradesh, Gujarat and Haryana had banned the film, despite the censor board's go-ahead earlier this month.
Last week, on a petition by
Padmaavat
's producers, the Supreme Court ruled that the film cannot be blocked and that it is the job of states to protect people and maintain peace.
The period drama stars Deepika Padukone as Queen Padmini, Shahid Kapoor as king Ratan Singh and Ranveer Singh as Sultan Alauddin Khilji, who leads an invasion to try to capture the queen. A year ago, members of the Karni Sena attacked the film's director
Sanjay Leela Bhansali
and vandalised the set during filming in Rajasthan. They alleged that the film showed a romance between Queen Padmini and Khilji, which the makers have emphatically denied.
Earlier this month, the censor board cleared the film with tweaks that included changing the title from "
Padmavati
" to "
Padmaavat
".