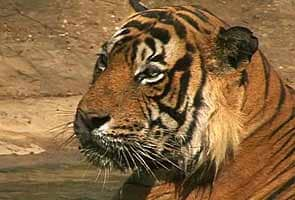 New Delhi:
The Supreme Court today allowed tourism in at least 20 per cent of what is known as core areas of tiger sanctuaries. The top court said that states will have to adhere to guidelines issued by Centre on tiger tourism and conservation.
The guidelines, prepared by the National Tiger Conservation Authority, were notified by the Centre yesterday. The top court modified its interim order banning tourism comes after the guidelines being notified.
In July, the Supreme Court had banned tourism in core areas of all 41 tiger reserves in the country based on an existing policy of the Centre. The ban was imposed after states failed to comply with the Centre's notification that tourism in these core areas be phased out.
Various state governments argued that the stay should be lifted because it is hurting the economy of the states with the tourist season beginning on October 1.
During the last hearing, the government of Kerala and devotees of Sabarimala shrine had opposed any move to regulate or control the movement of pilgrims and vehicles to the temples in sanctuaries. The Sabarimala shrine is situated inside the Periyar tiger sanctuary.
The Madhya Pradesh government also wanted Panchmari town also be exempted from the guidelines, which is located in the buffer area of Satpura sanctuary and has a temple.
The state has said that court guidelines are restricting vehicular movement and will affect people come to Panchmari to see the natural beauty and for pilgrimage.
Under pressure from various state governments, the Centre had approached the top court for lifting the ban partially.
The Centre had filed an affidavit in the court asking for the ban to be lifted on tourism in core areas of tiger reserves. In the affidavit, the Centre had outlined the revised guidelines to protect the tiger population.
The guidelines presented to the court talked about the phasing out of permanent tourist facilities located inside the core areas of the reserve in a specified time frame.
As per the guidelines, the state governments will now submit its plan for conservation of tigers to Centre which may approve or suggest modification.