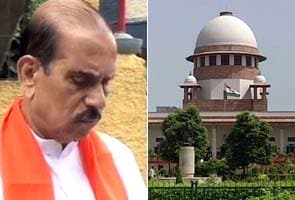 New Delhi:
The Supreme Court has slammed Shiv Sena leader and former Maharashtra Chief Minister Manohar Joshi for handing over prime government land in Pune to his son-in-law for building a housing complex in 1998.
In a severe indictment of Mr Joshi - also a former Lok Sabha Speaker - the court observed, "It is rather unfortunate that the then chief minister, who claims to be an educationist, took interest in releasing a plot duly reserved and acquired for a primary school only for the benefit of his son-in-law."
The case, dating back to 1998, pertains to the change of land use of a plot meant for a primary school in Pune to favour a builder who was close to Mr Joshi's son-in-law Girish Vyas. The nod for the change in the land use was given by Mr Joshi himself.
The court has imposed a fine of Rs 15,000 on Mr Joshi and has asked his son-in-law, Mr Vyas, to surrender his claim on the ten-storied building that has come up on that land, failing which the structure would be demolished.