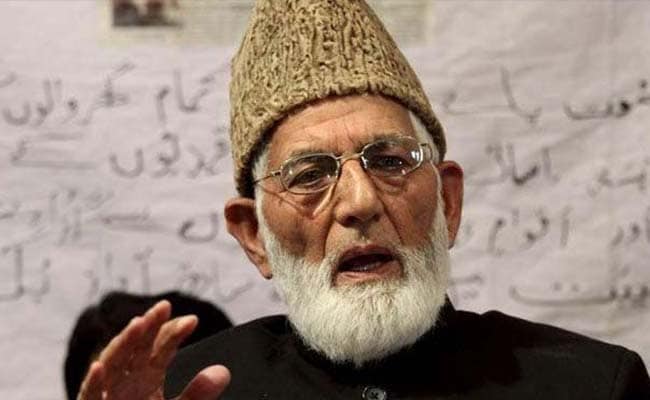 Srinagar:
The investigations into terror funding in Jammu and Kashmir have now drawn the sons of separatist Syed Ali Shah Geelani's sons into its ambit. Reports say the National Investigation agency has summoned both his sons for questioning, but they may not be appearing before the agency soon.
Naeem Geelani, the elder of Syed Ali Shah Geelani, who was to be questioned today, was admitted in Srinagar's Sher-e-Kashmir hospital on Sunday after he complained of chest pains. A heart patient, he had undergone cardiac surgery in 2009.
A surgeon, Nayeem Geelani had returned from Pakistan in 2010 after spending 11 years there. He is seen as the successor to the Geelani-led Tehrek-e-Hurriyat, a separatist conglomerate comprising pro-Pakistan hardline groups.
The younger son of Geelani, Naseem Geelani, has said he is yet to receive any communication from the National Investigation Agency.
Last week, the agency arrested Altaf Fantosh, Geelani's son-in-law. He was among the 7 persons arrested and accused of receiving funds from Pakistan to sponsor protests by stone-throwers in Kashmir Valley, which left more than 100 people dead last year.
All seven are currently in Delhi, where they are being questioned by the investigators.
Today, a Facebook post from Naseem Geelani - who claims he is not involved in politics -- read: "Accountability is good but there should be same yardstick. Don't target only those people who don't agree with you". The post, which ostensibly addressed the government, went on to add, "(It should be) same for all politicians... At least we are ready, what about others?"
The Mehbooba Mufti government has disagreed with the arrests by the investigation agency, contending it interfered with its efforts to conduct dialogues with separatists for a peaceful resolution. Sources said the government had even attempted to block the arrests. On June 28, the state police had detained Atlaf Fantosh on a minor charge - a move that was seen as an attempt to circumvent the NIA probe.