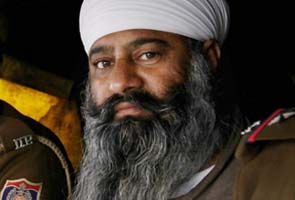 New Delhi:
The Delhi Police today told a city court that former Uttarakhand Minorities Commission chairman Sukhdev Singh Namdhari shot at liquor baron Ponty Chadha's brother Hardeep Chadha during the November 17 shootout that left the two businessmen dead.
Mr Namdhari was today sent by the court to five days in police custody. He was arrested by a Delhi Police team from his house in Bajpur, Uttarakhand yesterday and brought to the Capital.
The police claim Mr Namdhari was the main conspirator in the attempt to evict Hardeep from the disputed Chattarpur farmhouse in south Delhi. Dispute over the farmhouse and other properties is suspected to have sparked off the shootout that left both Ponty and Hardeep dead.
Mr Namdhari already faces charges of criminal trespassing at the farmhouse and attempt to murder. The police say he had, on the morning of November 17, led 30-40 of Ponty's associates to the farmhouse to forcibly take over the property. The group allegedly detained and thrashed Hardeep's men and fired in the air.
A police team has taken Mr Namdhari to Uttarakhand to recover weapons used in the shootout and hunt down his associates involved in the vandalism and trespassing at the farmhouse.
Mr Namdhari, who was initially considered a key witness in the case, has alleged a political conspiracy behind his arrest. Emerging from the court, he said: "I don't want to talk more on this case. I just want to say it was an accident and the FIR was lodged by me. I called the police myself. It is wrong to say I fired. It is a matter of investigation."
Mr Namdhari's counsel RS Mallik opposed the five-day police custody, telling the court that it was his client who lodged the FIR and rushed Ponty to hospital. "How could he be a conspirator, considering that the other FIR lodged in the case by Hardeep's driver Nand Lal does not show his involvement," the counsel said.
Mr Namdhari, according to the police, used to help Ponty grab land.
Mr Namdhari, who was removed as Uttarakhand Minorities Commission chairman after the shootout, has 26 cases against him in Uttarakhand between 1993 and 2009. Eight of them are murder cases. Mr Namdhari is alleged to have often threatened people - the police got requests in 2001, 2003 and 2009 to cancel his firearm licence.
(With inputs from PTI)