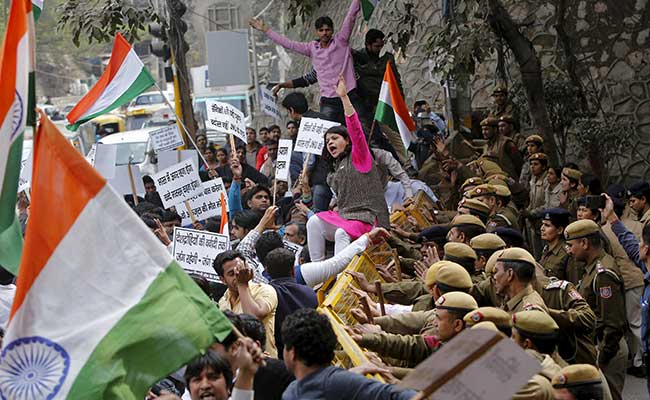 New Delhi:
In one of the biggest nationwide protests, students spread onto the streets on Monday after the arrest of a student under sedition charge in in Delhi's prestigious Jawaharlal Nehru University.
Outrage over the arrest of the Left-wing student leader Kanhaiya Kumar has led to demonstrations in at least 18 universities. Protests spread when Mr Kumar was arrested last week for sedition for allegedly being present at the event in support of Afzal Guru.
Today, students in Kolkata burnt an effigy of PM Modi and left-wing groups in Odisha planned state-wide demonstrations.
In the largest protest, thousands of students and academics at JNU boycotted classes and erected barricades for the fourth day in an escalating conflict with the authorities.
Violence erupted outside a New Delhi courthouse and a group of lawyers were seen beating up students where Mr Kumar, 28, was to appear before a judge on Monday.
"The government does not want students to have a say," said Rahila Parween, vice-president of the Delhi unit of the All India Students' Federation, a left-wing student union. "It wants to dictate what students think, understand and say."
The incident marks another flare-up in an ideological confrontation over freedom of expression between the Narendra Modi government and left-wing and liberal groups.
Members of PM Modi's ruling BJP accused the student leader Kanhaiya Kumar of "anti-India" sentiment. One BJP lawmaker said the university, which has a tradition of left-wing politics, should be shut down.
"I can assure you that every action we take is to protect our country. Any anti-India activity will not be tolerated," BJP president Amit Shah, one of PM Modi's closest allies, said at party headquarters.
Activists have long questioned Afzal Guru's conviction and the Supreme Court has described the evidence against him as circumstantial.
A leader of a student group linked to the BJP, said freedom of expression should not be misused to justify acts that could harm the country. "You cannot be an Indian if you celebrate the death anniversary of a terrorist," said Saurabh Sharma, joint secretary of the Akhil Bharatiya Vidyarthi Parishad or ABVP.
Home Minister Rajnath Singh has, meanwhile, faced ridicule for citing a fake tweet to say that the JNU demonstration had been backed by Hafiz Saeed, a Pakistani militant behind the 2008 attack on Mumbai in which 166 people died.
The Delhi Police circulated the fake tweet over the weekend in a warning to students "not to get carried away by such seditious and anti-national rhetoric".
"The crackdown signals an utter lack of judgment in the government, where ministers manage to manufacture a national crisis out of what were always, at best, minor affectations in student politics," Pratap Bhanu Mehta, a leading political commentator, wrote in the Indian Express newspaper.
Since the NDA government came to power in May 2014, attacks have taken place over reports of cow slaughter and beef consumption. There has been a series of attacks on churches, while writers have returned awards in protest over the government's silence over a series of murders of rationalist scholars.
"We are witnessing liberal India, particularly young people who are usually more idealistic, fighting back," said Satish Misra, a political analyst at the Observer Research Foundation.
© Thomson Reuters 2016