Varanasi:
Highlights
Clashes broke out last night between police and protesting BHU students
In a video, cops are seen thrashing a woman student outside her hostel
No women constables can be seen in the footage
A cellphone video has emerged that shows two policemen raining blows on a woman student of the Banaras Hindu University, drawing sharp criticism of the police handling of a student's protest on the campus. The use of force took place last night as the students made yet another attempt to meet the vice chancellor to discuss the question of women's safety in the campus.
The students have been protesting against the university administration's alleged inaction and victim shaming after a first-year student said she was molested in the campus on Thursday.
Chief Minister Yogi Adityanath has ordered an inquiry and asked the Varanasi commissioner to submit a report. BHU Vice Chancellor Girish Chandra Tripathi has promised action and said installation of CCTV cameras is under process.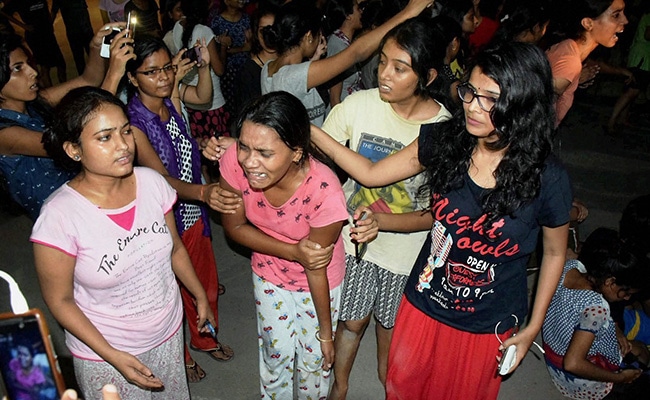 The video shows policemen charging towards the protesting women near the hostel gates. All the women except one run inside. A policeman pushes the woman, who falls to the ground. Then two others begin thrashing her with batons. No woman constable can be seen in the footage.
The students say the police used force without any provocation and even tried to enter the women's hostel.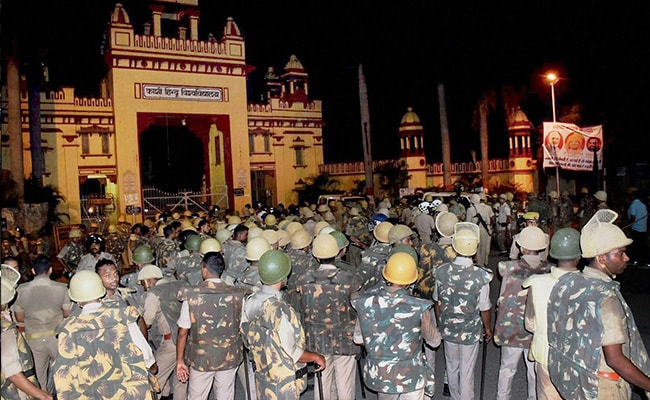 The police have claimed that they were provoked into using batons. Government sources told NDTV that outside elements had attacked the police, who then had to use force. The women, they said, got caught in the violence, during which at least three motorcycles were set on fire.
The college, too, called the protest politically motivated. "80 per cent of the protesters are outsiders," said a spokesperson of the college.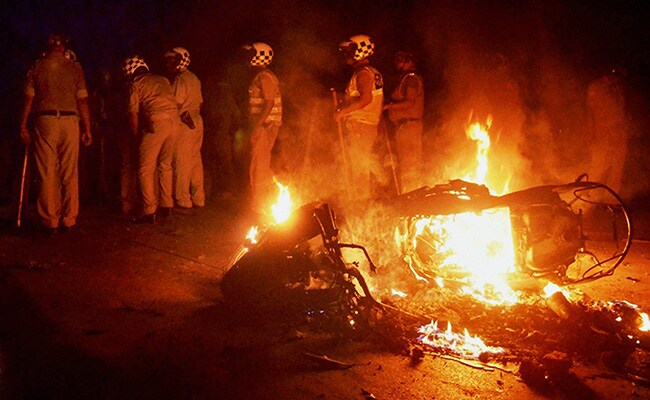 The police, who were stationed at the campus since, say the situation is under control.
The opposition Congress and the Samajwadi Party has sharply criticized the BJP government led by Yogi Adityanath. The attack took place a day after Prime Minister Narendra Modi's visit to Varanasi, which is his Lok Sabha constituency.
Congress Vice President
Rahul Gandhi
said the police violence was the "BJP version of Beti Bachao, Beti Padhao in BHU". Former UP Chief Minister Akhilesh Yadav tweeted, "Lathicharge on BHU students is condemnable. The government must find solutions through talks and not force. There should be action against those involved."
Senior JD(U) leader Sharad Yadav said it has never happened at BHU. "We will raise the issue in Parliament... It is intolerable in a democracy and the government should apologise," he said.
The first-year student had alleged that three bike-borne men had harassed her inside the campus on Thursday evening in presence of security guards. The hostel warden, instead of taking up the issue with the administration, had blamed her, she said.
Election Results for Lok Sabha Election 2019 will be out on May 23. Get the latest election news and live updates on ndtv.com/elections. Catch all the action on NDTV Live. Like us on Facebook or follow us on Twitter and Instagram for news updates from each of the 543 parliamentary seats for the election 2019