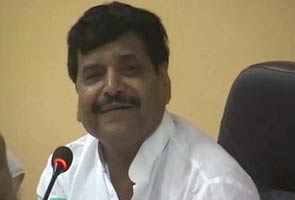 Etah:
In Uttar Pradesh, a senior minister, who is also Chief Minister Akhilesh Yadav's uncle, offered bizarre advice to a group of bureaucrats when he met them on Thursday.
Shivpal Yadav, who handles the Public Works Department (PWD), was caught on camera saying to the bureaucrats, "I told PWD officials the other day that 'if you work hard then you can steal a little. But you will not behave like dacoits." The minister said to the bureaucrats, "you work hard, put your heart and soul into it, if you give them sweet water then you are allowed to steal some too."
The footage was allegedly shot by a crew hired by local administration officials to cover the meeting.
After his remarks were aired on television and political opponents demanded that he be dismissed, the minister said that the media was not meant to cover his meeting.
Former Samajwadi Party leader and Urdu journalist Shahid Siddiqui slammed Mr Yadav, saying this is an irresponsible statement. "This is not a surprising statement. He said earlier that what happened in Nithari was not a big deal; he has been making all kind of controversial and foolish statements. He wants to bring down Akhilesh's government down. This is a worse situation than Mayawati's reign," Mr Siddiqui said.
Bahujan Samaj Party (BSP) leader Sudhindra Bhadoria said, "I think that it will create very bad impact on people, children, youths and farmers. He should take his statement back and the Chief Minister should punish him."
"During the course of the last election, Mayawati ji had forewarned people of Uttar Pradesh that if Samajwadi Party comes into the power then the days of UP will be very dark and there will a lot of crime, murder, ransom money cases in UP. Since they have come in power, the manner in which they are functioning, they are giving an open call to do corruption," he added.