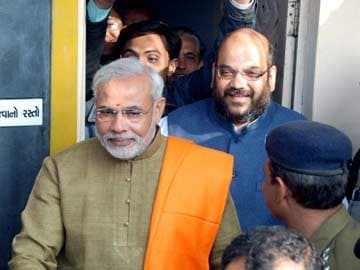 New Delhi:
The Congress today unholstered a biting attack on
Narendra Modi
for the alleged illegal monitoring of a young woman in his state in 2009 by senior police officials. The Congress has alleged that Mr Modi, who is running for Prime Minister, authorised police officials via his then Home Minister, Amit Shah, to tap the woman architect's phones and follow her.
Union Minister Manish Tewari today referred to the Gujarat chief minister as the "stalking
sahebzada
".
His party, the Congress, wants a Supreme Court judge to investigate the accusations, which are based on an alleged expose by two news websites, Cobrapost and Gulail. They claim that audio recordings show that Mr Shah, as Home Minister, ordered the state police to tail the woman at the behest of a man he called "
saheb
" or "boss."
(Snooping allegations against Amit Shah: Congress demands probe by Supreme Court judge)
The audio tapes were given to the CBI by a senior Gujarat police officer, GL Singhal, who has allegedly said that more than 200 of the recorded conversations are between him and Mr Shah. The CBI has not taken voice samples from either man to confirm if the voices on the tape are indeed theirs.
Mr Singhal has reportedly divulged to the CBI that senior members of Gujarat's anti-terror squad were among those assigned to tail the woman whose identity must be protected for legal reasons.
The BJP has suggested that the woman was monitored at the request of her father, as he feared for her safety. "The Gujarat government has provided protection and cover. The father and the woman are together in this and they asked for protection against a powerful bureaucrat, who was harassing her," said BJP spokesperson Nirmala Sitharaman.
(Snooping allegations against Amit Shah baseless, says BJP; rules out rethink on Narendra Modi)


The BJP's chief, Rajnath Singh, has said that the allegations are unfolding now, months after the tapes were given to the CBI, to derail Mr Modi's campaign for the national election.