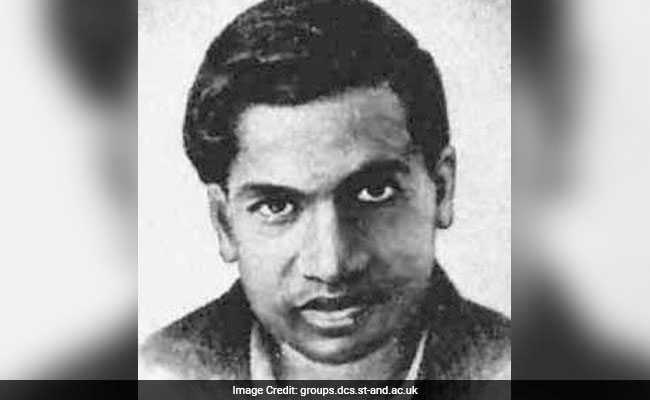 New Delhi:
Coming from a humble Tamil Brahmin Iyengar family and without any formal training in pure mathematics, Srinivasa Ramanujan grew up to become a mathematics genius from India. He made incredible contributions to mathematical analysis, number theory, infinite series and continued fractions. A movie, 'The Man Who Knew Infinity', starring actor Dev Patel was filmed on his life and pioneering work as a mathematician from India. Srinivasa Ramanujan's birth anniversary on December 22 is celebrated as National Mathematics Day every year.

Here are 10 Facts From The Life Of India's Great Mathematician Srinivasa Ramanujan:

1. Srinivasa Ramanujan was born on December 22, 1887, in present-day Tamil Nadu.
2. His breakthrough came in 1913 when he began a postal partnership with the English mathematician GH Hardy at the University of Cambridge in England. Recognizing the extraordinary work sent to him as samples by Ramanujan, Mr Hardy arranged for his travel to Cambridge.

3. Mr Hardy, after going through his original letters, had said that a 'single look' was enough to show that they were written by a mathematician of highest caliber. He even compared Ramanujan to other mathematical geniuses such as Euler and Jacobi.

4. He was first Indian to be elected a Fellow of Trinity College, Cambridge.

5. Ramanujan independently compiled nearly 3,900 results, mostly identities and equations. He is known for discovering Landau-Ramanujan constant, Mock theta functions, Ramanujan conjecture, Ramanujan prime, Ramanujan-Soldner constant, Ramanujan theta function, Ramanujan's sum, Rogers-Ramanujan identities and Ramanujan's master theorem.


6. His formulas, theories and equations opened an entire new area of work and inspired further research. Nearly all his claims have now been proven right.
7. One of his notebooks that contained discoveries from the last year of his life was considered to be lost, but caused great excitement among mathematicians when it was re-discovered in 1976.

8. On personal front, Srinivas Ramanujan was a strict vegetarian and follower of goddess Mahalakshmi of Namakkal. "An equation for me has no meaning unless it expresses a thought of God," he had said.


9. When Ramanujan got married in 1909, he was 12 and his wife Janaki was just 10.
10. He died at a young age of 32 in 1920 reportedly due to hepatic amoebiasis. He also suffered from dysentery and severe vitamin deficiencies.