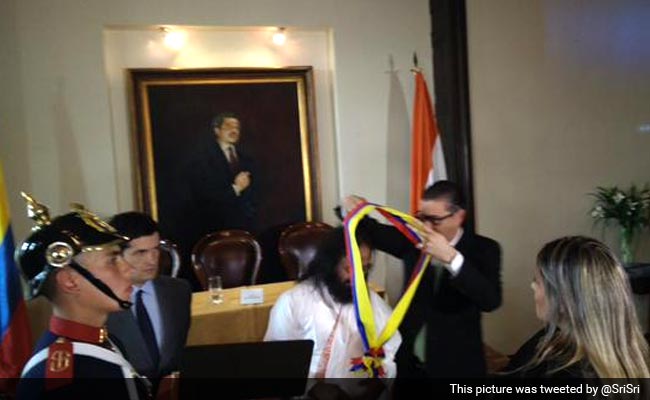 Houston:
Spiritual leader Sri Sri Ravi Shankar has been conferred with Colombia's highest civilian award for his contribution to peace issues around the world, particularly in the Latin American country.
Fabio Raul Amin Saleme, President of the House of Representatives, Congress of Colombia presented 'Orden de la Democracia Simon Bolivar' award to Sri while highlighting his achievements in peace matters through his foundation, The Art of Living.
"Even amidst a 50-year-old conflict, the South American country of Colombia salutes the power of peace. A passionate resolve to work on restoring peace in its country echoed through the corridors of the Colombian Parliament as the President of the House bestowed the country's highest civilian award on Sri Sri Ravi Shankar," Art of Living told PTI.
"I promise I will do all that is in my capacity to bring peace to all in the conflict in Colombia," the spiritual leader, 59, said while receiving the honour.
The award is in recognition of his peace work around the world, with special reference to his work in Colombia through his foundation.
Re-affirming his commitment to a violence-free and stress-free world, Sri dedicated the award to those who are working for non-violence.
"When the conflict is between justice and peace it is a humongous task to reconcile the two. Only a spiritual dimension can ease the situation," said the spiritual leader who has worked in conflict zones across the world.
"Your commitment in Colombia for more than eight years compels us to recognise your achievements in peace matters in our overwhelmed nation, and to thank you for the undeniable presence of The Art of Living in our country," Mr Saleme had said earlier in a written letter to Sri Sri Ravi Shankar.
Mr Saleme also made special mention of Sri Sri Ravi Shankar's programmes, which have taught meditation and the Sudarshan Kriya to thousands of people in Colombia and to millions around the world.
"Through this institution (The Art of Living), many have found an antidote to the stress they are undergoing daily, by practicing yoga and breathing techniques," Mr Saleme said.