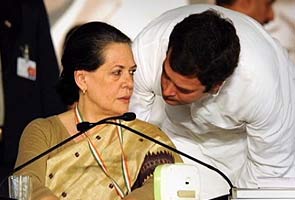 New Delhi:
Congress president Sonia Gandhi has been shifted out of the intensive care unit (ICU) of an American hospital. She was operated upon on Thursday and remained in the ICU for 24 hours.
"Her family has expressed gratitude on her behalf for all the messages and good wishes that have been sent to her," said a statement issued by the Congress party on Saturday.
Yesterday, the party said her surgeon had indicated that her operation was successful. It did not say where the surgery was performed, but said the Congress president's son Rahul Gandhi, daughter Priyanka and son-in-law Robert Vadra were with her. The Congress has also said that, "As this is a personal matter that pertains to her health and medical treatment, her family requests that her privacy be respected."
Sonia Gandhi and her family left for the US on Tuesday. Sources say she had been in touch with the doctors for the last six months.
Special prayers were held in her constituency Rae Bareli, as the political establishment came to grips with the news. In Parliament, the Sonia-effect was felt on proceedings - for example, during a discussion on Telangana, Sarve Satyanarayana, a Telangana MP, said, "Sonia Gandhi is like my mother. We wish her well."
Former Andhra Pradesh Chief Minister K Rosaiah went a step further when he called for a temporary break to the agitations over the Telangana issue in the state. "The final decision has to be taken by them (Central Government). As UPA chairperson, Sonia Gandhiji needs to give her advice. Since she is unwell, the agitators should give a temporary break to their campaign. They can voice their demands after her return," Mr Rosaiah said in Hyderabad.
Pointing out that such breaks were given even during India's independence movement, Mr Rosaiah said, "All the leaders including Sushma Swaraj have wished speedy recovery of Sonia Gandhiji. I appeal all the leaders of Telangana and other regions to observe restraint and think calmly."
But while Telangana leaders may choose to wait, the Congress faces some tough days ahead with pressing issues such as the indictment of Delhi Chief Minister Sheila Dikshit in the government auditor's report on the Commonwealth Games. Rahul Gandhi is expected to return before August 15, but the Congress leaders are not indicating whether Mr Gandhi, and his caretaker team, will tackle these issues in Sonia Gandhi's absence.