New Delhi:
Highlights
Sonam Kapoor is reportedly dating Bhane owner Anand Ahuja
"A woman's worth is not quantified by a ring on her finger," she tweeted
She lamented the inherent sexism in the focus on her personal affairs
Actress Sonam Kapoor, clearly exasperated by recent headlines speculating that she is on the brink of getting married or at least engaged, has posted a series of tweets denouncing the gossip columns dedicated to her private life and the columnists, many of whom she says are women, who write them. It began with a tweet from a news outlet that claimed the 32-year-old actress and
her rumoured boyfriend Anand
would be engaged by December. "There's so much going on in this world but my so called personal life is what you want to cover.. #notengagedatall (sic)," Sonam Kapoor responded on her Twitter account. She then tweeted a statement dismissing the 'friends and family' invoked as sources in these columns and advising the media to 'stop writing c**p.'
Read her statement here:
Dear gossip columnists of @DeccanChronicle#asianage@MumbaiMirror@pinkvillapic.twitter.com/nJ4p1YyOwW

— Sonam Kapoor (@sonamakapoor) July 13, 2017
Sonam Kapoor also lamented the inherent sexism in the media's focus on her personal affairs. She wrote, to responding tweets: "What's sad is that a woman's worth is quantified through this s**t. Why aren't male heroes asked this? What's scary is that most of these columnists are women. Not realizing that a woman's worth is not quantified by a ring on her finger." It's not always the female actresses, though - Salman Khan has been plagued by pretty personal questions on his continued bachelorhood for years.
Sonam Kapoor and Anand Ahuja, who owns the clothing label Bhane, haven't actually said they are dating but
a look through their respective Instagram accounts
shows they haven't exactly shied away from posting pictures and endearments about each other. Anand has accompanied Sonam to several public engagements recently, including the National Award where the actress received a Special Mention for her work in
Neerja
. This week, a deluge of tabloid reports claim that Sonam's father Anil Kapoor want the couple to be engaged, married, what-have-you soonest.
We'll wait for Sonam Kapoor to formally announce her relationship status. Until then, here are some posts she and Anand Ahuja have shared:
Most recently, Sonam hinted at the rumoured romance by tagging her mother Sunita and Anand in a post referencing the Doris Day song Que Sera Sera. Anand's response soon appeared in the comments section: 'love love love! (sic).'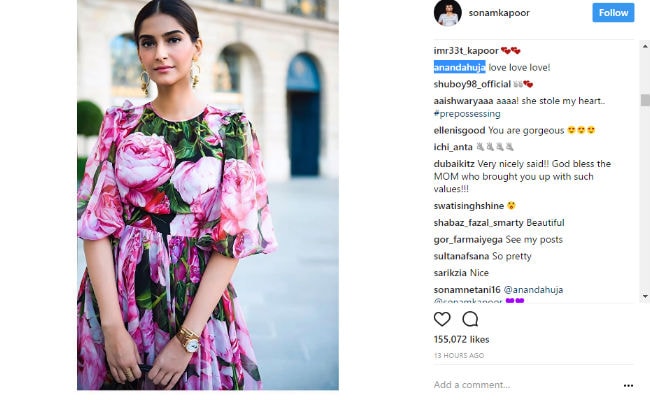 Sonam Kapoor, last seen as slain air stewardess Neerja Bhanot in
Neerja
, is currently working on Akshay Kumar's
Padman
and the Sanjay Dutt biopic starring her Saawariya hero Ranbir Kapoor.