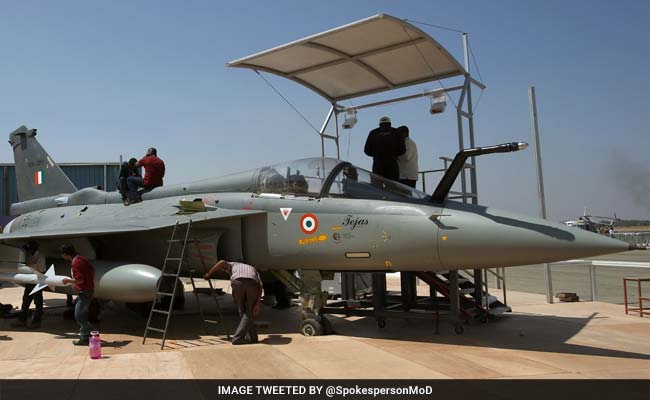 Highlights
Donald Trump has pushed companies to keep jobs in United States
US arms sales to India have generally increased in recent years
Indian conglomerates have expanded more into the defence sector
Boeing Co. and Lockheed Martin Corp. promised to build plants in India if the world's biggest arms importer chose their fighter jets and weapons. That was before President Donald Trump's America First call.
This week will be a test for that promise as the biggest U.S. defense contractors, Russia's MiG Corp., and Europe's Airbus SE line up to display their wares at an air show in Bengaluru in southern India.
Even as they compete for deals, they could find themselves torn between Trump's push for companies to keep jobs in the U.S. -- he has singled out a number of multinational firms on Twitter for public criticism -- and Prime Minister Narendra Modi's own program that seeks to tie military contracts to some of the manufacturing being done in India.
"All of us in Washington are guessing where Trump is going to land on these issues," said Alyssa Ayres, a senior fellow for India, Pakistan and South Asia at the Council on Foreign Relations in Washington. "He has certainly been very clear in his tweets and direct outreach to American companies that he wants to try to ensure that people don't move production facilities and try to retain jobs in the U.S."
India's Defence Minister Manohar Parrikar will use the airshow to outline Modi's plans to boost the domestic defense industry by giving contracts to local companies, as well as asking foreign manufacturers to tie up with Indian firms, according to people familiar with the plan who are not authorized to speak publicly about it.
Modi's promise to shell out $250 billion in the coming years on fighter jets, submarines, howitzers and helmets to modernize his armed forces came with one call -- Make in India. Sensing an opportunity, local conglomerates Tata Group, Mahindra & Mahindra Ltd. and Larsen & Toubro Ltd. have expanded more into the defense sector and formed joint ventures with international manufacturers.
India, which has traditionally relied on Russia and the former Soviet Union for fighter jets, is increasingly warming to the U.S. In his first phone conversation with Parrikar, Defense Secretary Jim Mattis committed to build upon the "tremendous progress in bilateral defense cooperation made in recent years," a Pentagon spokesman said last week.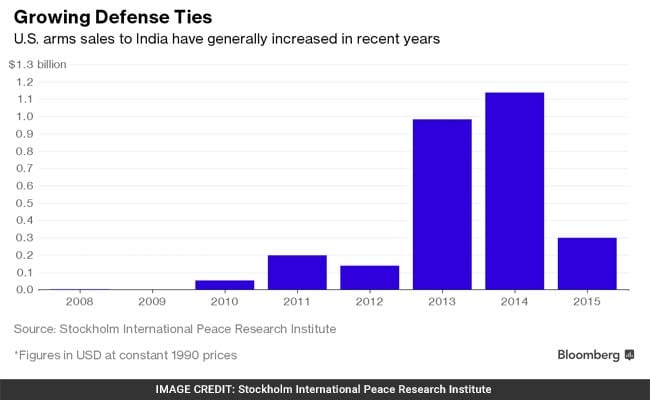 Modi's domestic manufacturing program is a centerpiece of his economic policy that seeks to boost manufacturing to 25 percent of gross domestic product by 2022 from 18 percent now, and aims to avoid dependence on foreign equipment, particularly in times of war.
French Deal
Lockheed Martin offered to make its F-16 fighter jet in India, after India scrapped an initial tender with Paris-based Dassault Aviation SA for 126 planes. India later decided to directly buy just 36 fighter jets from the French government. That still leaves the country short of planes, meaning potential deals worth billions of dollars are on offer.
Trump's administration will want to take a fresh look at some of Lockheed's proposals, including plans to build the F-16 in India, the company said. All previous orders from India have created jobs for Boeing in the U.S., Boeing India President Pratyush Kumar said in an interview.
About a third of the nation's 650 planes are more than 40 years old and set to retire in the next decade. Boeing as well as Sweden's Saab AB are offering to shift some production to India as they seek to win contracts. Boeing and Lockheed have also been on the receiving end of Trump's criticism in recent times.
"The politics of it looks bad, in terms of the appearance back in the U.S. -- especially when he's talking about an America First campaign," said Anit Mukherjee, a former Indian Army major and an assistant professor at Singapore's S. Rajaratnam School of International Studies. "If companies like Lockheed and Boeing go ahead with the Make in India thing -- which in itself is a big question mark -- then perhaps he might intervene on that."
U.S.-India defense ties have grown in recent years, in part as India's neighbor China has increased its military clout in the region. India has also sought to diversify its sources of arms imports from a Cold War-era reliance on Russian weapons.
The potential for U.S. companies to win business by manufacturing "not so state-of-the-art" equipment in India could be a trade off for Trump, said Amit Cowshish, a former financial adviser to India's defense ministry and a fellow with the New Delhi-based Indian Institute for Defence Studies and Analyses.
Trump's protectionist rhetoric so far seems to be aimed at products consumed in the U.S. and not at jobs created overseas to support a foreign market, said New Delhi-based Ankur Gupta, vice president for aerospace and defense at Ernst & Young.
Still, "he's completely unpredictable on this," said Mukherjee from RSIS, referring to possible Trump intervention over foreign manufacturing by U.S. firms. "It has a potential to create problems. I'm sure it will be discussed between Indian and U.S. officials."
(Except for the headline, this story has not been edited by NDTV staff and is published from a syndicated feed.)