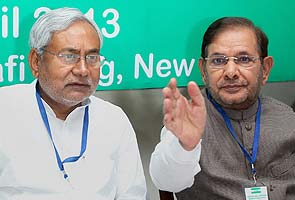 New Delhi:
Janata Dal (United) president Sharad Yadav on Sunday said the party had been weakened since it merged with the Samata Party and there were many challenges facing it.
"There are challenges everywhere and every time. We have not been able to make the party reach where it was supposed to reach," Mr Yadav said addressing the JD (U) national party meet in New Delhi.
He said: "When JD (U) and Samata Party merged, both were national parties. But now their strength has decreased".
Mr Yadav thanked his party workers for electing him the party president again.
The Samata Party was merged into the JD-U in October 2003. The JD (U) was then also a part of the ruling coalition in the National Democratic Alliance. The party was formed in 1994 by Nitish Kumar, now Bihar chief minister, and veteran socialist leader George Fernandes.