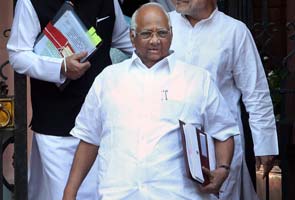 Nagpur:
Senior UPA minister Sharad Pawar has received a special birthday gift from the Shiv Sena. The suggestion that he could be Prime Minister if he joins the NDA.
The suggestion came from senior Sena leader Manohar Joshi, who said at a function last evening, said, "I feel Pawar should come to the NDA and he can be Prime Minister." He said seeing the internal wrangles of the NDA over finding a suitable candidate to be its face in the 2014 general elections, Mr Pawar could be a universally acceptable candidate.
This is not the first time that a Shiv Sena leader has batted for Mr Pawar. In 2009, Sanjay Raut had said that if there was any leader ftom Maharashtra who could be PM, it was Mr Pawar.
The Shiv Sena is a member of the NDA or National Democratic Alliance that is led by the BJP. Mr Pawar is a senior minister at the Centre and heads the Nationalist Congress Party, an important constituent of the ruling UPA. His NCP also governs Maharashtra in partnership with the Congress. The Shiv Sena-BJP are in the opposition in that state.
But beyond his political affiliation, Sharad Pawar enjoys good relations with leaders across party lines and is looked up to as one of the state's tallest leaders. Maharashtra Home Minister and NCP leader RR Patil said at a function to celebrate Mr Pawar's birthday on the lawns of the Vidhan Bhavan in Nagpur that his party chief's "personality and leadership has been as unique as the date today. Every member cutting across party lines has come here to express wishes."
Maharashtra Chief Minister Prithviraj Chavan cut a cake and MLAs sang "Happy birthday to you." Mr Pawar was absent.