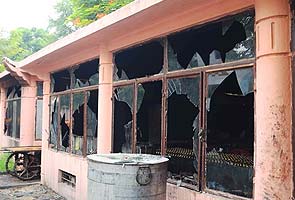 Bodhgaya:
Serial explosions inside and outside Mahabodhi temple in Bihar were a terror attack, the Home Ministry said today as it sent National Investigation Agency and National Security Guard teams for post-blasts investigations.
"It was a terror attack," Union Home Secretary Anil Goswami told PTI.
He, however, said so far no group has claimed responsibility for the multiple blasts and investigations were on.
Mr Goswami said four blasts took place inside the temple complex while four occurred outside it.
The Home Secretary said teams from National Investigation Agency and National Security Guard comprising explosive experts were sent to Bihar to help the police in collection of evidence and assist in post-blasts investigation. Two people were injured in the serial blasts early this morning in the temple town of Bodh Gaya.
Get Breaking news, live coverage, and Latest News from India and around the world on NDTV.com. Catch all the Live TV action on NDTV 24x7 and NDTV India. Like us on Facebook or follow us on Twitter and Instagram for latest news and live news updates.