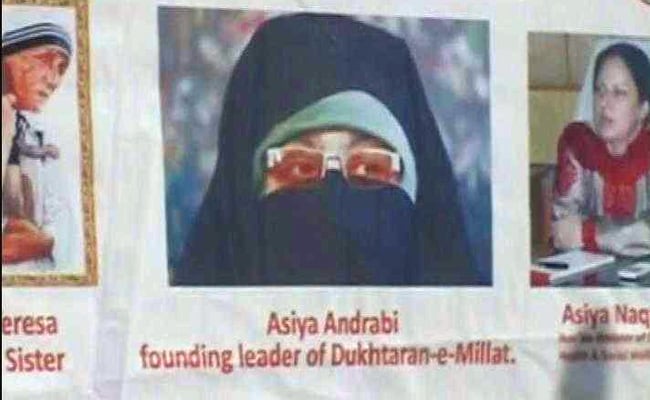 Srinagar:
The government of Mehbooba Mufti wants to know how jailed Kashmiri separatist Asiya Andrabi landed on a list of 12 women achievers -- alongside the Chief Minister herself -- in a Jammu and Kashmir government poster. The government has also ordered an inquiry and suspended an official.
The photograph of a veiled Andrabi had been flanked by images of Mother Terasa, and the state's junior Health Minister Asiya Naqash. The list of 12, which started with the Chief Minister, also included former Prime Minister Indira Gandhi, Puducherry Lieutenant Governor Kiran Bedi, noted singer Lata Mangeshkar and tennis star Sania Mirza.
To the discomfiture of the government, the poster by the Social Welfare Department was displayed at a function meant to highlight Prime Minister Narendra Modi's flagship 'Beti Bachao, Beti Padhao' campaign. The BJP is a partner in the state's ruling alliance and the child care wing -- which organized yesterday's function at south Kashmir's Kokernag town --is headed by BJPs associate lawmaker Sajjad Lone.
"We totally disassociate ourselves from that banner... We want to reiterate it unambiguously that we don't see Asia Andrabi as a role model. If anything, we see her as aberration, a part of an aimless fringe. It's a grievous error of the CDPO and Acton has been taken against her," said Sajad Lone, the state's social welfare minister.
The inquiry was ordered this morning after snapshots of the poster were circulated on the social media and Ms Mufti's government was jeered at.
"Some local officer's favourite people," tweeted former Jammu and Kashmir Chief Minister Omar Abdullah, pointing out that he would have been hauled over coals had the mistake happened on his watch.
Andrabi, the chief of pro-Pakistan chief of 'Dukhtaran-e-Millat' (daughters of the nation) organisation -- is currently in jail under Public Safety Act for her separatist activities. She has several cases registered against her including under the Unlawful Activities Prevention Act.