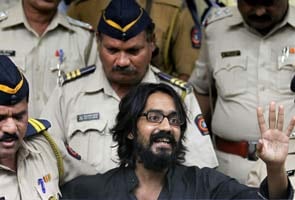 Mumbai:
Maharashtra government has informed the Bombay High Court that sedition charges against cartoonist Aseem Trivedi have been dropped.
The cartoonist was arrested on September 8 based on a complaint of a Mumbai lawyer who took umbrage at his anti-corruption cartoons and said they were offensive and disrespectful of national emblems and the constitution. Mr Trivedi was released on bail on September 12.
While leaving the jail in Mumbai, Mr Trivedi had said, "My battle has just begun." Thanking the people for their "overwhelming support," he slammed the sedition law saying, "124A has been in place since the colonial time when the British used to silence rebel voices. This is the only law which is misused more than it is used, it is archaic and befitting a monarchy not a democracy."
The arrest of the 25-year-old provoked criticism at home and attention abroad with suggestions that it illustrated the government's increasing intolerance of dissent.
Maharashtra government has also submitted in court that a circular will soon be issued to all police stations directing them to take legal opinion before booking anyone on sedition charges.