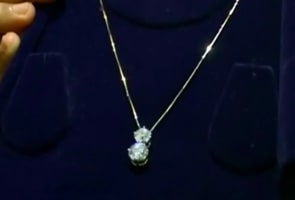 An unidentified person donated two diamonds worth Rs 1.18 crore at the Sri Saibabatemple in Shirdi, Maharashtra. Temple authorities say this is the first time in the history of the temple that they have received such a big offering in diamonds.
The cost of the diamonds was derived by a government evaluator who is called in every time the temple authorities need to establish the prices of gold, silver and diamond donations.
This pendant, shaped to look like the number 8 has two diamonds, one of which costs approximately Rs 38 lakhs and the other RS 78 lakhs. The pendant came with a simple gold chain.
The temple opens up its donation boxes, three times a week. Cash donations are then separated from the jewellery and metal donations. Every three months these metal goods are then valued.
The temple authorities maintain that the identity of the devotee is unknown even though sources say that the identities are known but often protected so as to continue the donations.
The Sai Baba temple of Shirdi is one of Maharashtra's richest temples and receives at least 1000 diamonds per year as offerings and between Rs 200 to Rs 300 crores in cash donations.
Get Breaking news, live coverage, and Latest News from India and around the world on NDTV.com. Catch all the Live TV action on NDTV 24x7 and NDTV India. Like us on Facebook or follow us on Twitter and Instagram for latest news and live news updates.