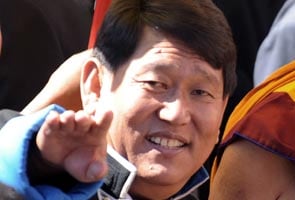 Itanagar:
Around three thousand security personnel are conducting ground searches at the inhospitable altitudes of Sela Pass to trace the missing chopper carrying Arunachal Chief Minister Dorjee Khandu and four others, as inclement weather coupled with overnight rains led authorities to cancel aerial operations.
Government Spokesperson Jarbom Gamlin said the Army, Indo Tibetan Border Police (ITBP) and the Service Selection Board (SSB), along with police are moving into Naga Jiji of Dirang in Sela Pass, about 85 km from Tawang, from where the helicopter carrying the chief minister took to the air last Saturday.
He said search teams have reached Chabrela, about 6-7 km from the area, indicated by Indian Space Research Organisation (ISRO) yesterday. Satellite images from its RISAT-2 reportedly traced few metal parts in the area, which may be parts of the helicopter.
"In any case it will not be possible before 2 PM today for us to say anything concrete," Gamlin said.
A report from Shillong quoting the Indian Air Force (IAF) said the two Mi17 helicopters flew from Tawang at 6.15 a.m, but had to return within 45 minutes because of the bad weather.
They were aiming to search in the areas of Bhutan where the infra-red images taken by Su30s picked up something resembling an aircraft. But they had to return.
Weather has not yet cleared and all search helicopters have been grounded, the sources said adding two Cheetah and two Chetak helicopters are standing by in Tezpur and Guwahati and would take off as soon as the weather clears.
Several local people have also voluntarily joined the search as a somber mood descended among the people after the ISRO satellite report showed metal parts in the area.
Official sources said two commando platoons of the Indian Reserve Battalion (IRB), a Deputy Inspector General of Police and Superintendent of Police were deputed to supervise and closely monitor the ground operation yesterday.
Besides Khandu, others on board were pilots Captain J S Babbar, Captain T S Mamik, Khandus security officer Yeshi Choddak and Yeshi Lhamu, sister of Tawang MLA Tsewang Dhondup.