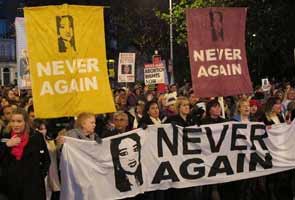 Belgaum:
The father of the Indian dentist who died in Ireland after doctors allegedly refused to terminate her pregnancy today said he would write to the President and Prime Minister, demanding that India press for an independent inquiry into his daughter's death.
Savita Halpannavar's father demanded that an Indian be appointed on the inquiry committee.
"I am writing a letter to the President, Prime Minister and External Affairs Minister, asking the Centre to stress for an independent probe as against the inquiry ordered by the Irish Government over my daughter's death," Andaneppa Yalagi told PTI at his residence in Belgaum.
He also demanded that the government take the issue to the International Court to punish the doctors responsible for his daughter's death and to prevail on the Irish government to amend the anti-abortion law in their country.
Terming his daughter's death as murder, he said justice should prevail so that such incidents do not recur anywhere in the world, particularly in Ireland. "We seek justice which does not mean monetary benefit," he said.
Abortion is illegal in Ireland except when there is a real and substantial risk to life, as distinct from the health of the mother.
31-year-old Savita, a dentist, died in Ireland due to blood poisoning after doctors allegedly refused to terminate her 17-week pregnancy, telling her that it was a Catholic country. She died after spending three days in pain and agony.
Irish authorities have launched a probe into her death.