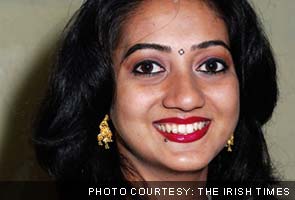 Dublin:
The husband of Indian dentist Savita Halappanavar, who died of blood poisoning in an Ireland hospital after being denied abortion, has demanded a public inquiry into the death.
In an interview to Ireland's RTE TV channel, Praveen Halappanavar said he would not meet the chairman of the Health Service Executive (HSE) inquiry into his wife's death. The family, he said, wants a public inquiry funded by the government.
"I had to answer the family back home... They couldn't believe it. It was such a simple case," Mr Halappanavar said on the channel's Prime Time programme. The interview will be aired tonight.
Mrs Halappanavar, 31, miscarried and died from blood poisoning on October 28 in Galway after doctors allegedly refused to remove her 17-week foetus, saying Ireland was a Catholic country whose laws didn't permit abortion.
The death sparked off a heated debate and protests in Ireland for a change in the country's abortion laws. Around 10,000 people marched through Dublin on November 18 during one such protest. The Irish government on Tuesday announced a seven-member team and assured the probe would be fair.
But Mr Halappanavar said he had no confidence in the HSE inquiry and there had been no progress in the case in the last two weeks.
"He (Praveen) feels anybody appointed by and paid for by the HSE to conduct the inquiry won't meet the criteria," Mr Halappanavar's lawyer Gerard O'Donnell earlier told RTE Radio.
"Evidence won't be taken under oath, it won't be cross examined. So I wouldn't be satisfied with that and neither would our client," he said.
But Ireland appears set to proceed with the existing inquiry. Health Minister James Reilly has said he wanted HSE to get on with the investigation as quickly as possible. HSE had yesterday dropped three members from its seven-member team as they were consultants at the same hospital where Mrs Halappanavar died.