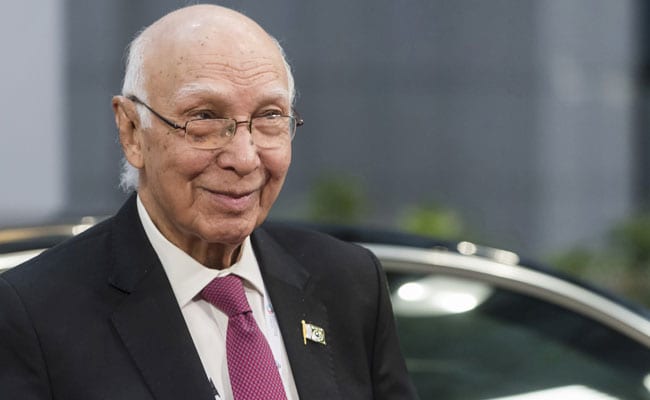 Amritsar:
In the midst of heightened Indo-Pak tensions, Pakistani Prime Minister's Foreign Affairs Advisor Sartaj Aziz arrived here this evening to attend the Heart of Asia conference amid speculation about whether the two sides will have bilateral talks on the sidelines of the conclave to break the ice in ties.
Hours after his arrival, Mr Aziz attended a dinner where he exchanged pleasentaries with Prime Minister Narendra Modi.
Mr Aziz was earlier scheduled to arrive in Amritsar tomorrow but came a day early due to prevailing weather condition. Almost the entire northern India has been affected by thick fog for the last two days, delaying flights and train operations.
Mr Aziz advanced his visit after he was informed about the weather condition, sources said.
There was no clarity on whether there will be a bilateral meeting on the sidelines of the conference.
Interestingly, in a goodwill gesture, Mr Aziz sent a bouquet to External Affairs Minister Sushma Swaraj, extending his "sincere good wishes for her full and speedy recovery" from illness.
Ms Swaraj, undergoing treatment for renal failure, is not attending the Heart of Asia conference and Finance Minister Arun Jaitley will head the Indian delegation at the Ministerial deliberations.
Mr Aziz, who arrived on a special flight, was received at the airport by Pakistan High Commissioner Abdul Basit.
Pakistan and India had held a meeting during last year's Heart of Asia Summit in Islamabad during which both countries had agreed to start a 'Comprehensive Bilateral Dialogue' which was to cover all outstanding issues. The resumption of the dialogue could, however, not take place due to the Pathankot terror attack in January this year.
Earlier this week, Pakistan High Commissioner Abdul Basit had said Pakistan was ready for unconditional resumption of dialogue if India was ready.
India has made it clear it will never accept continued cross border terrorism as the 'new normal' in bilateral ties with Pakistan and that talks cannot take place in an atmosphere of "continued terror".
Tension between the two countries escalated after the cross border terror attack on an army base in Nagrota.
During tomorrow's proceedings at the conference, India is likely to step up its efforts to corner Pakistan diplomatically by mobilising support for concrete action against state-sponsored terrorism.
Afghanistan, which has also been witnessing increased attacks from terror groups operating from Pakistani soil, is set to push hard for a regional counter-terror framework with "binding" commitment at the annual HoA conference, a platform set up in 2011 to assist the war-ravaged country in its transition.