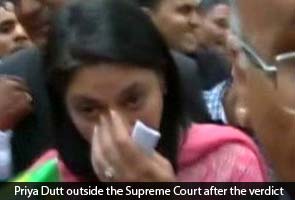 New Delhi:
Sanjay Dutt
's sister Priya Dutt, who is also an MP from Mumbai, broke down in the Supreme Court today after the actor was sentenced to five years in jail for illegal possession of weapons in a case linked to the 1993 serial blasts in Mumbai.
"I don't want to speak. I don't know what to say," a visibly upset Ms Dutt said when asked about her reaction to the court's order.
The actor will have to surrender within four weeks. Since he has already spent 18 months in jail in connection with this case, he will have to serve the remaining jail term of three-and-a-half years.