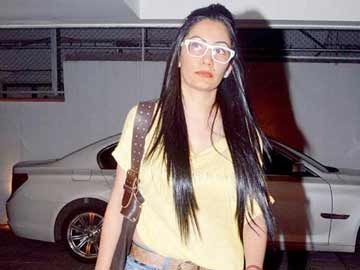 Mumbai:
Actor Sanjay Dutt was granted parole for a month after he filed an application citing his wife's illness. The actor had earlier been granted a 14-day medical furlough in the beginning of October, which was extended further by another 14 days on health grounds. He was effectively at his Mumbai home all of October and returned to the prison on October 30.
While returning, he had told reporters, "I still have a problem in my legs, but it is better now. Pray for me, so that I can come out soon." That wish seems to have been granted to him and Dutt will bring in the New Year with his family, a privilege not many convicts seem to get.
According to Yogesh Desai, jail superintendent of Yerawada jail, Dutt had submitted the application for the present parole along with his request for a medical furlough in October. Sources say he is likely to return to his Mumbai residence today. The 53-year-old was sent to jail in May to serve the remaining 42 months of his five-year sentence after he was convicted of possessing illegal firearms in the 1993 Mumbai bomb blasts case.
Maanayata unwell?
While Dutt (53) claimed that his wife was unwell and secured a parole, Maanayata Dutt was seen at two separate events on Thursday. Actor Shahid Kapoor held a special screening of his latest release R.... Rajkumar for his friends at a studio in Juhu. Maanayata was present at the event that was also attended by Shahid's father Pankaj Kapur, director Ashutosh Gowariker, actor Ayushmann Khurrana, and Sunil Lulla, MD, Eros India, the company that produced the film.
After the event, Mrs Dutt, along with Shahid and Ayushmann, accompanied Lulla to his home to celebrate his wife Krishika Lulla's birthday. According to sources, the cake was cut at 12 am. Divisional Commissioner Prabhakar Deshmukh confirmed the development yesterday, "The parole application was recommended by an ACP in Mumbai Police and the jail superintendent of Yerawada prison.
Considering these recommendations, I have approved Dutt's parole for 30 days. The reason for seeking leave was his wife's illness. "
Yerawada jail superintendent Desai told MiD DAY, "I haven't yet seen the order. But in our report, we had mentioned that Dutt's behaviour was good. But the parole was approved only after the local police submitted their report." Rajendra Dhamane, deputy inspector general (prisons), explained, "An inmate is entitled to a parole even on the next day of returning from furlough."