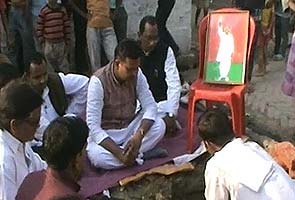 Lucknow:
For Samajwadi Party (SP) workers in Aligarh, politics is their religion and Mulayam Singh Yadav is God. And the latest example of sycophancy was a temple dedicated to the SP chief coming up in the city, until the party put a stop to it.
Measuring 10X12 feet, the temple was to have a five feet tall statue of Mr Yadav in stone and cost a little over Rs 10 lakh.
"We laid the foundation stone for the temple on Mulayam Singh's birthday and the temple would be ready in a month's time," Rajesh Saini, a member of the party's Aligarh unit, had said.
But the SP scuttled his plans. Work on the temple, which was started on November 22, was stopped after instructions from the party headquarters.
SP state secretary SRS Yadav called Mr Saini to get the work stopped. But Mr Saini is not disheartened. He plans to meet Mr Yadav and Chief Minister Akhilesh Yadav and request them to allow him to go ahead with his project.
Mr Yadav had staunchly criticised statues built by Bahujan Samaj Party chief Mayawati during her tenure as chief minister. "Statues of the living are not meant to be installed and garlanded," he said, vowing to destroy them.
But even after the SP came to power in Uttar Pradesh, Mayawati's statues stand tall. Earlier this year, Akhilesh Yadav hurriedly replaced a broken statue of the BSP chief within hours of it being vandalised.