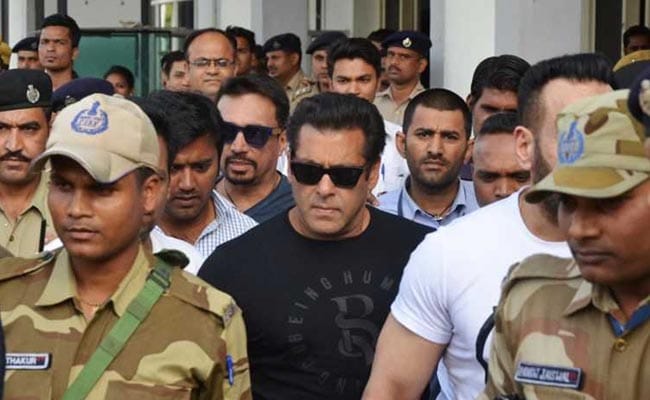 Jodhpur:
Salman Khan, one of India's biggest superstars, mellower perhaps at 52 than he was in 1998, when he killed two endangered blackbucks in a forest near Jodhpur, spent the night at Jodhpur Central Jail yesterday. Salman Khan, who has long walked the good and bad binary with his larger than life 'bhai' image clashing with his controversial personal life, spent the night in jail as Qaidi (prisoner) No. 106. This, however, is not the first time Salman Khan has gone to prison; it in fact is his fifth time in jail. He has previously been in prison briefly for charges ranging from killing deer to a man sleeping on a Mumbai pavement. Each time though, managing to get bail within a few days. Salman Khan's bail request in yesterday's blackbuck case verdict was heard today, but the judge has putt off the hearing till tomorrow to study the observations of the lower court.
Salman Khan has been sentenced to five years in prison
. Four other Bollywood stars, Saif Ali Khan, Sonali Bendre, Tabu and Neelam Kothari, were acquitted for lack of evidence in the case. Inspite of the court finding him guilty, Salman Khan has maintained that he is innocent. While delivering the verdict yesterday, the judge said, "The way the accused (Salman Khan) killed two innocent black bucks in violation of the wildlife laws...he is a film star, people emulate him... there has been a rise in poaching incidents, so leniency is not justified." Salman Khan's lawyer submitted his client's bail papers today in the Jodhpur sessions court. The hearing will continue tomorrow after the judge scrutinizes the entire records of the case. Till then, Salman Khan will have to spend another night in jail.
Here are the highlights of the Salman Khan blackbuck poaching case:
Friends Come In Salman Khan's Support, Visit His Home As He Spends The Night In Jail

After Salman Khan was sentenced to five years in prison in the 1998 blackbuck poaching case by a Jodhpur court yesterday, many of the actors colleagues and friends visited the superstar's residence in Mumbai to meet his family. Family members including brother Sohail and Arbaaz, and brother-in-law Aayush Sharma were at Salman Khan's Galaxy Apartment in suburban Bandra in Mumbai. Soon after the judgment was announced, Baba Siddiqui rushed to the actor's house to meet his family.

Malaika Arora and her sister Amrita Arora, "Race 3" producer Ramesh Taurani, Sonakshi Sinha, along with her parents Poonam and Shatrughan Sinha, Sneha Ullal and Daisy Shah also visited Salman Khan's residence. Sonakshi, Sneha and Daisy were all launched in Bollywood as actors by Salman Khan.

Filmmaker Sajid Nadiadwala, who is a close friend of Salman Khan, cancelled the success party of his latest release, "Baaghi 2", and left for Jodhpur immediately.

After the verdict, hundreds of fans had gathered outside Salman Khan's house. Police had to stationed outside the building.

Actor Varun Dhawan, who was in Delhi to promote his upcoming film "October", tweeted, "I know for a fact that Salman bhai and his family have the utmost respect and faith in our judiciary system. Salman Khan is one of the strongest and most genuine people I know and I'm sure he will come out of this stronger."